Internal Transfer Applicants
Current Cornell students may apply for internal transfer admission to the applied economics and management (AEM) major in Dyson. Please pay careful attention to the information provided here as you consider applying. Dyson enrolls transfer students in the fall semester only and the application is due by midnight EST at the end of day on May 1st. 
Cornell internal transfer applicants should have a very strong academic record in their current program and should be prepared to communicate thoughtfully and in some detail about their interests and reasons for preferring to study in Dyson. Internal transfer admission into Dyson is extremely competitive and therefore not all applicants who meet the criteria below are accepted. For information and Q&A session registration and information, please refer to the "Questions and Contacts" section at the bottom of the page.
Eligibility
Rising second year and rising third year (i.e., those who apply in their first or second year) currently attending Cornell University are eligible to apply as internal transfer applicants. Preference is given to current first year applicants. Current juniors and seniors are not eligible for internal transfer to Dyson. Students who transferred to Cornell from another university or college are also not eligible for internal transfer to Dyson.
Freshmen exploring the possibility of transferring to Dyson should familiarize themselves with AEM prerequisites to ensure that courses taken during the first year will meet Dyson requirements.
Admission Requirements
The application for internal transfer is available here on the Cornell University Undergraduate Admissions site. However, students are reminded that Dyson only enrolls internal transfer students for the fall semester.
* Please note that Dyson requires submission of your resume, so be sure to paste it in the space provided on the online application form.
Internal transfer applicants must meet (or complete during the semester in which they apply) the following requirements to be considered for admission:
Minimum Cornell GPA of 3.0
Full-time (12-credit-minimum) standing each semester, with few, if any, S/U graded courses
Good standing in current college
Successful completion of ECON 1110
Successful completion of one of the following calculus courses:
Successful completion of one of the following statistics courses:
* Students are encouraged take the statistics class housed within their current college or major.
Please note that Dyson will not accept AP or IB credit for the required courses above. Students must take these courses at Cornell or at the college level for college credit prior to enrolling in Dyson.
Current curriculum requirements are subject to change and internal transfers will be held to the major requirements for the year in which they matriculate to Dyson.
Admission Recommendations
Essay Guidance
You could include in your essay:
How your interest in a given major and college has developed, and how you have explored it.
Explain clearly and in a well-thought-out manner how your intended major and college could provide you with the tools and instruction you desire to achieve at Cornell, and why other options (double major, minors, etc.) are not useful.
Describe the professional goals/interests you are considering. How will your target college help you to attain your goals?
If you do not satisfy all the requirements for transfer to your intended college, state the reasons for this, and how you intend to fulfill those requirements.
You can also talk about the activities that you have been involved in at Cornell and the community (work/volunteer experiences, clubs, research) and how they have shaped you.
Is there anything else your target college should know about you (e.g. personal/family situations, independent study…) that you consider could further clarify your interest?
Course Recommendations
Your internal transfer application is strengthened if you take at least one quantitative course each semester. Possible courses include the following:
Courses available to freshmen that may fulfill AEM requirements and can inform your decision to transfer to Dyson include the following:
Do not feel you must choose courses from this list; it is provided for your information only.
Note: Management, marketing, accounting, and finance courses offered as part of the university minor in business do not fulfill Dyson major requirements and therefore should not be taken by freshmen applying to transfer. 
In addition to coursework, your internal application to Dyson will be evaluated on qualitative factors such as work experience, volunteer activities, leadership positions, internships, and your ability to explain in detail why the AEM major is a good fit for you.
Application Process and Timeline
Dyson enrolls transfer students in the fall semester only. Internal transfer applications are accepted during the prior spring semester. The application deadline is midnight EST at the end of the day on May 1st. Late applications will not be reviewed and extensions are not granted.
Questions and Contacts
The Admissions Office will hold a virtual information session on Tuesday, October 4th from 5:00-6:00PM EST. Please register in advance for this session here: Zoom Registration Link.
The Admissions Office will also hold 2 virtual Q&A sessions at the following times. We ask that you come prepared with questions pertaining to the internal transfer process to pose to our panel of admissions officers. No advance registration is required.
Wednesday, October 12th from 5:00-6:00PM EST: Zoom Link
Wednesday, October 26th from 5:00-6:00pm EST: Zoom Link
Office of Undergraduate and Master's Programs Admissions
SC Johnson College of Business
289 Statler Hall
Phone: 607.254.4228
dyson_admissions@cornell.edu
Maria Jiang '16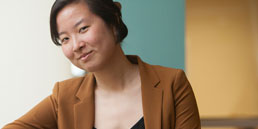 Hometown
Reading, Pennsylvania
Concentration
Environmental, Energy, and Resource Economics
What Makes Dyson Special?
The support. In classes, everyone works together to strengthen their understanding of concepts. Study groups are commonplace and nonexclusive. The majority of classes are TA'ed by peers who have taken the classes before. This means your TAs know exactly how to help you understand the most difficult lessons, because they were once there, too. Dyson also offers the widest variety of concentrations I found while applying to business schools. I got to specialize in environmental, energy, and resource economics right off the bat, without having to wait years and years until graduate school.