Theses and Dissertations
Note: In most cases, a copy of each thesis or dissertation can be found in Mann Library.
2022
Doctor of Philosophy
Abbas, Ali, Essays on Public Finance and Development
Chen, Ruyu, Essays on Information Technology Adoption among Commercial Firms
Rao, Deyu, Essays on Environmental and Urban Economics
Si, Shuyang, Empirical Analyses of Food and Energy Economics and Policy in China
Wu, Zhouyu, Information Ownership, Valuation, and Exploitation in Digital Markets
Xue, Zhe, Essays on Patents and Innovation Disclosure Strategy
Yang, Youwei, Emerging Questions in Agricultural Finance
Master of Science
Dai, Bingyan, Impact of Increased Drought Intensity in California on Supply Chain Configuration: Broccoli in the Eastern United States
Fu, Zhe, Effect on Consumers' Willingness to Pay on "Local" Information for Strawberries
Gao, Qixiang, Market Attitudes under Uncertainty: What is Priced in the Crude Oil Volatility Risk Premium?
Gao, Ya, The Impact of House Demolition on Chinese Households' Expenditures
Gjika, Ina, The Relationship Between Sustainability, Credit Risk and Profitability in Financial Institutions – Evidence From Developing Countries
Ha, Chengchen, Dairy Revenue Protection Insurance: Effect on Risk Reduction and Return
Hiebert, Allegra Rose Trasolini, Estimating Productivity and the Labor Market Consequences of Minimum Wage Legislation in Indonesia
Hu, Anna, Consumer Willingness-to-pay for Concord Grape Juice Treated by High-pressure Processing and Pulsed Electric Field
Hu, Xiaoyu, Does performance commitment improve earnings quality?
Jia, Jingru, People's Well-Being and Economic Sector Performance
Jung, Jong Min, Do Unionized Firms Have Better Management Practices?
Kim, Hannah, Farmer Adoption of Cassava Traits: A Case Study of Improved Varieties in Nigeria
Krasnoff, Shayna Marie, Economic Assessment of Farm-to-School Food Purchasing Incentives: The Case of the Buffalo City School District
Liang, Luqi, How Partner Type Influences Effectiveness of Symbolic Co-Branding in Cosmetics Industry
Ma, Xuqian, Particulate Matter, Micronutrient Supplement, and Early Childhood Development
Marman, Olin Benjamin, Macroeconomic Networks and Growth: A Cross-Country Analysis
Nguyen, Phuoc Thien Anh, Trade Liberalization and Children's School-Work Choice: Evidence from Vietnam
Paje, Miguel Santos, The Determinants and Impacts of Farmer Association Membership in Albay, Philippines
Park, Sangwoo, The effect of weather on travel modes: a Chicago case study
Perez, Luis Fernando, An Analysis of the Impact Agricultural Certifications Have on Farmer Incomes- The Case of Columbia Avocado Growers
Porter, Samuel Louis, The Role of Soil Properties on Crop Yield Sensitivity to Extreme Temperatures
Saiyyad, Kasim Nazir, Does Participation in Two Livelihood Programs Make the Low-Income Households Any Better?
Silver, Casey Rebecca, Consumer Perceptions of Various Meats and Meat-Substitutes: A Lab Based Study
Song, Jiachen, Impact of Internet Forum Trends and Retail Investors Online Discussions on Stock Price: Analyzing Wallstreetbets Users' Activities in the 1st & 2nd Quarter of 2021
Su, Xingbang, Corporate Strategy, Earnings Manipulation, and Short Selling
Sun, Jialiang, Factors Associated With Price Responsiveness of Concord Grape Growers in New York State
Tran, Anh Triet Tam, The Impact of COVID-19 Pandemic on WTI Crude, Milk, and Agricultural Commodities
Wang, Yunran, Farmer's Choices and Informal Loans in China: Risk-sharing and Personality Effects
Wang, Zhongyang, Shifts in Political Environment and Industry Momentum: Evidence from Global Stock Markets
Wang, Zihan, Height and Income Effects on Stock Investments in China
Xie ,Guanghan, Wallstreetbets and the Madness of Crowds
Yu, Zhongling, Assessment of Environmental Kuznets Curves for Industrial Solid Waste in China
Zeng, Zijian, Charging Station Location and Electric Vehicle Demand: Evidence from New York State
Zhang, Hanlong, Social Media Generic Advertisements and Demand for California Walnuts
Zhang, Shenzhe, Individual Differences in Making Intertemporal Choices for Monetary and Food Choice Tasks: Using Drift-Diffusion Model (DDM)
Zhang, Tieyue, Estimating the Effects of the Conservation Reserve Program on Water Quality of Agricultural Watersheds in the US
Zhang, Xiaoyuan, Does Social Assistance Increase Smoking and Drinking among the Poor? Evidence from the Minimum Living Security System in China
Zheng, Linnan, The Impact of Compulsory Lockdown to control the Spread of Covid-19 on Air Pollution-Evidence from 74 Major Cities in China
Zhou, Geqing, Facts Behind Food Certifications: Consumer Demand for Organic and Non-GMO Plant-Based Milk Products with Redundant Labeling and Certification Exceptions
Zhu, Haolin, Change in Comprehensive Bilateral Trade Cost Under China's Belt and Road Initiative
2021
Doctor of Philosophy
Blom, Sylvia Annette, Three essays on the economics of poverty, nutrition, and development
Byrne, Anne Teresa, Consumer use of food bank services: questions of timing and value
Jodlowski, Margaret,  Three Essays on Agricultural Labor and Risk in the United States
Liang, Yuanning, Essays in Environmental, Transportation, and Urban Economics
Purevjav, Avralt-Od, Essays on the Environmental and Transportation Economics
Rajkumar, Vidya Bharathi, Essay on the Effects of Migration & Remittances on Households in Rural India
Sim, Armand Arief, Essays on Consequences and Responses to Economic Shocks
Soares Cardoso, Diego, Essays on Carbon and Water Pricing
Yang, Lin, Essays on Environmental Challenges and Regulations in China
Yeh, Dourong Adeline, Three Essays on Economic Issues Confronting the Fresh Produce Sector
Master of Science
An, Yinuo, Subjective and Objective Risk Perceptions and the Willingness to Pay for Agricultural Insurance: Evidence from an In-the-Field Choice Experiment in Rural China.
Bonacquist-Currin, Marley, The Economic Value of Birdwatching: A Meta-Analysis and Summary of Stated Preference Studies
Davis, Trent James, Intra-household Perceived Bargaining Power and Agricultural Technology Adoption: A Case Study of Improved Cassava Varieties in NigeriaDong, Siyu, The Myth of Foreign Direct Investment on Productivity: Firm-Level Evidence from China, 2000 – 2013
Du, Jiajun, A Vulnerability Index for Priority Targeting of Agricultural Crops with a Changing Climate
Fang, Shichao, Informal Lending and Other-Regarding Motives: Further Evidence from Choice Experiment in Rural China
Fiechter, Chad Michael, Countercyclical Use of Trade Credit: Evidence from the Northeast Dairy Industry
Harrison, Cale Steven, Excess returns or excessive risk? Environmental impact in the age of news overload
Havas, Dana Michele, Analyzing Farm Level Practices and Policies for a Financially Viable Sheep Farm Enterprise Using System Dynamics: Focusing on Fiber Production and Marketing
He, Yurou, The Efficiency of Agricultural Credit Associations with Loan Losses as Undesirable Outputs
Homami, Nima, Assessing Consumer Demand for Intermediate Wheatgrass, A New Sustainable Grain
Hu, Xingyi, Meritocracy and Cronyism in the Political Selection System: Evidence from Prefecture-level Cities in China
Ju, Ming, The Impact of Natural Disaster Risk on US Municipal Bonds
Li, Jinge, Global Evidence of the Effect of Phytoplankton on Fishery Resources
Li, Qiyu, An Analysis of Participation and Willingness to Sell of Farmers in an Urban Village Removal Program – A Case Study in Zhoushan, Eastern China
Lin, Changlun, Knowledge and Innovation Flows in the Chinese Tech Sector
Liu, Shutian, The Relationship Between Gender and Depressive Symptoms in China
Liu, Yuwei, Capturing Crop Resilience to Extreme Weather Under Conservation Practices: Evidence From Crop Insurance Indemnities
Luo, Xueyun, High-Tech Industrial Development Zone Policy and Firm Innovation Activities: Evidence from China
Malinovskaya, Anna, Essays on New Income Opportunities for Disadvantaged Populations in the U.S.
Martin, Judith, Food Insecurity Dynamics of Households in the United States Between 2005 – 2017
Mazariegos-Anastassiou, Veronica, Supermarket Expansion and Changing Food Consumption Patterns in Mexico, 1996-2006
Pramanik, Chanchal, A Problem on the Feasibility of Rural Digital Economy
Schultz, Alexander John, Crop Insurance's Impact on Commercial Bank Loan Volumes
Sheinberg, Joshua Stephen, To Brand or Not to Brand? An Empirical Analysis of the Advantages and Disadvantages of Hotel Branding
Shi, Weilun, The Economics of Agricultural Land Use Conversion and the Conservation Reserve Program
Shulman, Ross Everett, Subjective Well-Being, Net Worth, and Savings Modalities
Wang, Qian, Public Blockchain Ecosystem and Dapp Adoption
Wang, Qinwen, Risk Balancing Behavior of Rural Households in China: Evidence from a Discrete Choice Experiment
Wasserman-Olin, Rebecca Danielle, Marketing Decisions of Farmers Via Wholesalers: A Choice Experiment
Weis, Carter Scott, Outdated: The Effects of Novel Freshness Indicators on Consumer Likelihood to Waste Food
Wu, Haotian, Does Ethanol in Gasoline Affect Air Quality? Evidence from NASCAR
Yang, Zou, Customer Satisfaction and Sales Performance in U-pick Operations
Ye, Kunkai, Financial Contract's Structural Shift Evidenced By An Empirical Exploration Of Textual Credit Agreements
Yu, Ge, The Impact of Social Media Sentiment on Chinese Stock Market
Zhao, Jianqiang, Putting Grocery Food Taxes on the Table: Evidence for Food Security Policy-Makers
2020
Doctor of Philosophy
Ho, Shuay-Tsyr, Essays on the Economics of Policy and Regulation in Agricultural and Food Markets
Korting, Christina Maria, Essays on Economic Challenges to Renewable Energy Integration
Lin, Chia Hua, Essays in Labor and Urban Economics
McGranaghan, Matthew, Essays on the Economics of Attention
Qian, Jing, Labor Unions, Corruption, and Electric Vehicles: Three Essays on Applied Microeconomics
Vanaja, Shiuli, Essays on the Time Use and Behavioral Patterns of Women's Access to Household Water in Rural India
Master of Science
Assaranurak, Ithipong, Adaption to Climate Change with Crop Insurance: Case of the US Federal Crop Insurance (1990-2015)
Bakshi, Tanya, An Empirical Analysis of Firm-Level Productivity, Perceptions, and Misallocation in the South Asian Region
Byambasuren, Tsenguunjav, Indoor Air Quality, Fuel Choice, and Infant Mortality
Cao, Chenyang, Does Venture Capital Accelerate the Inventive Activities of Frontier Technologies? New Evidence from Artificial Intelligence
Chen, Hongxiao, Capital and Labor Distortions, Firms' Heterogeneity and Export Behavior
Constenla Villoslada, Susana, Development Resilience: A Comparison of Popular Measurement Methods
Han, Congyan, Understanding Missing Data in Real-time Pollution Monitoring System in China
Ji, Yikuan, Marginal Effect of Road Construction on Traffic Speed: Evidence from New York City
Kim, Ejin, Do H-2A Guest Workers Displace Native Farmworkers?
Li, Dingyi, The Effects of Pollution on Travel Mode Choice
Li, Lingyi, An Ex-ante Economic Evaluation of Patented Rootstocks for Apple Producers in New York State
Li, Wei, Do Operators Leverage Their Labor by Hiring Workers? Evidence from Dairy Farms
Lian, Fenni, Agriculture Commodity Prices and Loan Losses at a Farm Credit Association: An Autoregressive Distributed Lag Analysis
Liang, Can, Cost of Capital For Closely Held Non-Publicly Traded Businesses: Empirical Estimation For Dairy Farms
Lu, Kefan, Non-family CEO compensation and firm performance: Evidence from Chinese listed family firms
Ma, Xiaoxiao, Inequality of Years of Schooling, Stunting, and Intra-Household BMI in China
Ma, Zekun, The Stigma of Non-GMO Label on Conventional Unlabeled Alcohol Products
Munch, Daniel Matthew, Assessing the Value of Agricultural Cooperative Membership: A Case of Dairy Marketing in the United States
Wang, Hexin, An Economic Investigation on Developments in Agricultural Credit During China's Collective Period: 1950-1984
Wu, Tong, Optimal Moso Bamboo Forest management: A Dynamic Model
Wu, Yu, The Impact of Sino-USA Trade War on USA Farm Bankruptcies
Xu, Wenzhuo, Does Watching Mukbangs Help You Diet? The Effect of the Mukbang on the Desire to Eat
Yalcinkaya, Beril, Customer Preferences in Small Fast-Food Businesses: A Multilevel Approach to Google Reviews Data
Yan, Minhao, Sell It Now or Later? A Decision-making Model for Feeder Cattle Selling
Yin, Rui, Investor Sentiment and Stock Return: Evidence From China
Yu, Shuo, Spotted Wing Drosophila Management in Michigan Blueberry: A Dynamic Structural Model
Zheng, Wenxue, Where Does My Time Go?! The Trap of Segregated Time
2019
Doctor of Philosophy
Gao, Xin, Choices and Preferences at the Individual, Household, and Community Levels
Ho, Shuay-Tsyr, Essays on the Economics of Policy and Regulation in Agricultural and Food Markets
Jagnani, Maulik Vimalkumar, Essays on Human Capital, Environment, and Development
Jerch, Rhiannon Leigh, Essays on the Value of Local Public Goods
Park, Seollee, Essays in Development and Nutrition Economics
Qian, Jing, Labor Unions, Corruption, and Electric Vehicles: Three Essays on Applied Microeconomics
Vemireddy, Vidya Sachita Reddy,Pathways from Agriculture to Nutrition in India: The Role of Women's Time Trade-Offs and Empowerment
Master of Science
An, Jingyi, The Role of Line of Credit in Mutual Funds Liquidity: Determinants and Implications
Assaranurak, Ithipong, Adaptation to Climate Change with Crop Insurance: Case of the US Federal Crop Insurance (1990-2015)
Byambasuren, Tsenguunjav, Indoor Air Quality, Fuel Choice, and Infant Mortality
Cao, Chenyang, Does Venture Capital Accelerate the Inventive Activities of Frontier Technologies? New evidence from Artificial Intelligence
Cao, Jiacheng, Fear-Based Buying and Investor Confidence: Exploring Mass Shootings Influence on the Stock Return of Firearm Manufacturers in the U.S.
Chen, Hongxiao, Capital and Labor Distortions, Firms' Heterogeneity and Export Behavior
Constello Villoslada, Susana, Development Resilience: A Comparison of Popular Measurement Methods
Gao, Yawan, Information Effects on Consumers Willingness-to-Buy: The Case of Spotted-Wing-Drosophile-Infested Blueberries
Han, Congyan, Understanding Missing Data in Real-Time Pollution Monitoring System in China
Kalaitzandonakes, Maria Helen, Mother Knows Best: Understanding Mom Blogs' Influence on Moms' Nutrition Beliefs and Habits
Li, Dingyi, The Effects of Pollution on Travel Mode Choice
Li, Dingyi, An Ex-ante Economic Evaluation of Patented Rootstocks for Apple Producers in New York State
Kim, Ejin, Do H-2A Guest Workers Displace Native Farmworkers?
Liu, Qi, Heterogeneous Choice in WTP and WTA for Land Rental Arrangement in Rural China: Choice Experiment from the Field
Ma, Xiaoxiao, Inequality of Years of Schooling, Stunting, and Intra-Household BMI in China
Ma, Zekun, The Stigma Impact of Non-GMO Label on Conventional Unlabeled Alcohol Products
Manzo, Angelo Anthony, A Structural Analysis of Global Corn and Soybean Markets from 2006-2017
Meng, Nan, Heterogeneous Choice in the Demand for Agriculture Credit in China: Results from an in-the-Field Choice Experiment
Pei, Xinyue, Unfair Inequality Measurement in China and South Africa
Schell, Robert Charles, You're Fat. How's that my Problem? Predicting the Lifetime 3rd Party Direct Costs of Obesity Among Late Adolescent Minorities with a Race-Specific Age-Related Weight Gain Curve
Sun, Mingwei, Heterogeneous Choice in the Demand for Crop Insurance in China: Results from in-the-Field Choice Experiment
Wang, Hexin, An Economic Investigation on Developments in Agricultural Credit During China's Collective Period: 1950-1984
Williams, Kalob James, Using Cocao to Catalyze Development: Productivity Drivers and Technology Adoption Amongst Smallholder Farmers in Montes de Maria Columbia
Wu, Tong, Optimal Moso Bamboo Forest Management: A Dynamic Model
Xu, Junhong, The Effect of Actual and Perceived Financial Literacy on Financial Behaviors of College Students
Xu, Wenzhuo, Does Watching Mukbangs Help You Diet? The effect of the Mukbang on the Desire to Eat
Xu, Xinran, The Effect of Portfolio Managers Past Experience on their Performance
Yu, Shuo, Spotted Wing Drosophila Management in Michigan Blueberry: A Dynamic Structural Model
Zhang, Xiaoxi, Informational Discontinuity in Soybean Futures Price from the 2018-2019 Sino-America Trade War
2018
Doctor of Philosophy
Debnam, Jakina Rian, Essays on the Role of Social Influence in Behavioral Economics
Finseth, Ryan Michael, Essays on the Economics of Conservation
Firsin, Oleg, Essays on Factor Mobility and Economic Outcomes
Hernandez, Aguilera, Juan Nicolas, Three Essays on the Economics of Sustainable Coffee Systems
Knippenberg, Erwin, Shocks, Resilience and Food Security, Essays in Development Economics
Li, Yanan, Three Essays on Development and Labor Economics
McBride, Linden E, Statistical Learning Applications in Development Economics
Otto, Steven Gregory, Essays on Conservation Auctions and Uncertainty in Preferences
Wu, Kai,  Three Essays on Capital Markets
Xing, Jianwei, Three Essays on The Economic Impact of Fuel Economy Policies
Master of Science
Anderson, Thomas Moylan, A Bioeconomic Model for Evaluating the Role of Conservation Finance in Fisheries
Dong, Jiayi, Consumer Willingness-to-Oay for Local Produce: The Case of New York Broccoli
Grout, Travis Austin, Are Revenues from Energy Leases Reinvested by U.S. Farms? Evidence from TOTAL
Gupta, Prankur, Can Social Marketing be a Tool Towards Improved Nutrition? Lessons from a Field Experiment in India
Hiranandani, Komal Surendra, Mismatched Governance: Exploring the Relationship Between Rural and Urban Governance Forms and Urban Development in India
Li, Yan, A comparison Between Pert Distribution and Seasonal Arima Model to Forecast Rainfall Pattern
Ma, Jidong, The Impact of High-Speed Railway on Firm Entry in China
Narang, Anjali Urvashi, The Role of Tastings and Simple Marketing Tools in Children's Acceptance of Healthy, Plant-based Entrees
Olson, Seth Alexander Bullen, Credit Rationing in Kenyan Agricultural Households and Uptake of Risk Contingent Credit: Evidence From the Field
Shin, Brian Bennett, On the Optimality of Fishery Moratorium
Stephan, Christine, Estimating Technical, Revenue, Allocative, and Profit Efficiencies of Genetic Traits for Dairy Bulls
Yu, Bochen, An Indigenous Analysis of the Gradual Information Diffusion Model
2017
Doctor of Philosophy
Cisse, Jennifer Denno, Development Resilience Estimation:  Theory and Applications
Fan, Xiaoli, Three Essays on Agribusiness Economics and Management
Hirfrfot, Kibrom Tafere, Essays In Development Economics
Li, Jie, Three Essays on Marketing and Consumer Behavior of Ambiguous Products:  The Case of Wine
Lei, Lei, Three Essays on the Impact of International Trade Policy on Agricultural Input Markets
McCullough, Ellen Bess, Structural Transformation in Sub-Saharan Africa:  Agricultural Productivity, Labor Supply, and Occupational Choice
Rao, Tanvi, Essays on Human Capital & Development in India
Seok, Young Hwa, Event Study Analysis of Consumer Behavior:  Evidence from Credit Card Spending in Korea
Wang, Yiwei, Essays on Regulation and Its Impact on Industry and Taxation:  Studies on Café Standards
Wu, Di, Social Media and Asset Prices
Master of Science
Chen, Ruyu, Social Interactions in the Presence of Community Shock
Diatta, Dieynab Sidou Faya El Siby, Shock Metrics for Resilience Analysis:  An Investigation of the Relationship Between Subjective and Objective Indicators
Kannan, Suryakumari Samyuktha, Developing A Multidimensional Framework for the Evaluation of Women's Self Help Groups
Kaur, Ishneet, FDI-Trade Interlinkages:  Analyzing Impact of Macroeconomic Crises
Meng, Qingrun, Climate Change Impact:  Accounting for Nonlinear and Heterogeneous Responses Across Industries in United States
Nasr, Anthony Tanios, The Interplay of Credit, Savings, and Vulnerability:  A Study of Financial Inclusion in Kenya
Nesin, Bourcard, From the Underground Up:  Bringing Bone Char Fertilizer to Market in Ethiopia
Nishi, Irin, Consumer Willingness to Pay for Local Vegetables Grown in a Controlled Environment:  The Case of Lettuce
Rao, Deyu, Air Pollution, Health Impact and Willingness to Pay for Clean Air in China
Saputo, Rachel Lauren, Revisiting the Demand for GMO Products:  Does Information about Food Waste Influence Consumer Preferences?
Troendle, Jason Alan, Economic Impacts of Using Virus-Tested Grapevines
Utterback, Matthew Levy, Investigating Weather Shocks and the Farmers' Perceptions of Climate Change in the American Farmland Market
Valdes Perez, Joaquin, Labor, Law, and Informality in Latin America:  Empirical Essays
Wang, Jingyuan, Impact of Economic Growth and Industrial Activities on Air Quality in China:  Evidence from 118 Cities
Wang, Xinyang, Finding Salvation in Food:  Social and Information Influences on the Perception of Food Fads
Wheeler, Mary Kate, The Uncertain Promise of Agriculture:  Two Essays on Climate Change, Agriculture and Nutrition in the Andean Highlands of Peru
Womack, Elizabeth Jade, The Effects of Development Aid as Rents on Violence
Wu, Linghui, Lionfish Derby:  Dynamic Optimization Model of a Fishing Tournament to Control Local Invasive Species
Yan, Bingyi, Crop and Energy Price Links Since 2006:  An Analysis of a Biofuel Policy Framework
Yang, Lin, The Environmental Impact of Metro Expansion on Air Quality in Beijing, China
2016
Doctor of Philosophy
Bevis, Leah, Tied to the Land: How Soils Drive Health, Investment, and Productivity in Rural Uganda
Choe, Justin J., Essays in Innovation and Technology Adoption
Gupta, Soumya, Three Essays on Agriculture-Nutrition Linkages:  Women's Iron Status and Empowerment in Agriculture in Chandrapur, India
Klotz, Richard Lawrence, Three Essays on the Design and Evaluation of Sector-Level Climate Policies
Simons, Andrew Martin, Essays in Development Economics: Human Capital Accumulation, Social Protection, and Hawthorne Effects
Soundararajan, Vidhya, Essays on the Economics of Labor Market Institutions and Political Economy
​​​​​​​Streletskaya, Nadezhda Andreevna, Consumer Food Preferences:  Three Essays on Labeling, Anti-Obesity Policies and Social Presence
Waxman, Andrew Robert, Three Essays on the Urban Transportation Networks
Master of Science
Bently, Michael James, Boomerang Bias:  Examining the Effect of Parental Coresidence on Millennial Financial Behavior
​​​​​​​Carduner, Amy Louise, Farm Loan Demand Elasticities and the Relationship Between the Farm Credit System and the Commercial Bank Lending
Cheng, Ziang, Agricultural Credit Demand in Republican China, 1929-1933: An Econometric Assessment of John L. Buck's Household Survey Data
Coles, Phillip Scott, Produce Buyer Quality Requirements to Form and Eastern Broccoli Industry
​​​​​​​Kananizadeh, Sogol, Analysis of Hybrid-Electric Market Penetration in the United States: What Went Wrong?
Kim, Hyeik, Momentum in the Corporate Bond Market: Evidence in Korea
Li, Yupeng, Is the Social Network an Effective Factor When Using Tablet PCs for Learning?  Evidence from a Field Experiment in Chinese Migrant Primary School
Miao, Qisiyu, Memory vs. Momentum – Exploring Momentum Strategies with the Hurst Exponent
Oh, Da Yea, The Welfare Economics of Renewable Electricity Policies in California
Pan, Yuanyuan, The Anti-Corruption Campaign and Catering Industry in China
Shen, Yu, Chinese Labor Earnings, Economic Sectors, and Individual Characteristics from 2010 to 2012
Shi, Kaihang, The Health Impact of Air Pollution in China: Evidence from Emergency Admissions
​​​​​​​Spini, Pietro Emilio, The Effect of Carbon Taxation on U.S. Crop Farm Costs
Wang, Boya, Impacts of Vertical Restraints on Output: Evidence from China's Tobacco Market
Yan, Jin, The Impact of the Minimum Wage Changes on Wages in the Informal and Formal Sector: Evidence from Indonesia
Yao, Jixuan, Testing Implied Volatility Discovery Period Length Assumptions in the Federal Crop Insurance Program
​​​​​​​Zeng, Zhaoyu, An Empirical Analysis of China's Electricity Sector Reform and Efficiency
2015
Doctor of Philosophy
Becker, Dennis, Hetergeneous Firms, Informality and Trade Liberalization
Bell, Samuel Dylan, Valuing Environmental Goods in a Development Context
Berazneva, Julia, Reconciling Food, Energy, and Environmental Outcomes: Three Essays on the Economics of Biomass Management in Western Kenya
Garg, Teevrat, Essays in Environmental and Development Economics
Kong, Xianzheng, Technical Patterns and Stochastic Properties of Asset Returns
Lu, Hao, The Economics of Demand Aggregators in Electricity Markets
Rusmevichientong, Pimbucha, Three Essays on the Impacts of Public Policy on Behavioral Health
Sharma, Parul, Corporations, Foreign Portfolio Investment and the Role of Securities Market Regulation
Sun, Lin, On the Economics and Pricing of Newly Emerging Bond Varieties: Micro and Macro Effects of Foreign and Catastrophe Bonds
Upton, Joanna Beth, Toward Better Meeting the Needs of the Food Insecure: Three Essays on the Theory and Reality of Food Assistance Policies in the Sahel
Yan, Jubo, Essays in Behavioral and Energy Economics
Master of Science
Byerly, Hilary Joy, Spatial Patterns of Drought Vulnerability in Rice-Producing Districts of India
Carbajal De Nova, Carolina, Wages, Gaps and Derived Demand:  The Case of United States and Mexican Production Workers
Chen, Pinyi, Preferential Treatments of State-Owned Enterprises in China
Cherry, Marin Elise, The Feasibility of a Sanitation System Utilizing Biological Pathogen Control:  Evidence from Ethiopia
Fang, Peixun, Evaluating Consumer Response to Labels and Packaging in the Market for Baby Foods
Hu, Xiao, An Empirical Performance Evaluation of Different Portfolio Allocation Strategies
Li, Feifei, Fairness, Reciprocity and Informal Familial Lending in Rural China and India
McCullough, Ellen Bess, Non-Thesis Master's
Miller, Alyssa P., A Spatial Econometric Analysis of Crop Insurance, Climate Change, and U.S. Corn Acreage
Xing, Jianwei, The Market for Electric Vehicles:  Indirect Network Effects and Policy Impacts
2014
Doctor of Philosophy
Atallah, Shady, Plant-Level, Spatial, Bioeconomic Models of Plant Disease Diffusion and Control: Grapevine Leafroll Disease
Chawanote, Chayanee, Occupational and Earning Dynamics, The Roles of Wealth and Education in the Rural Non-Farm Economy: Evidence from Thailand and Indonesia
Dressler, Jonathan Boyd, Agricultural Mortgage Portfolio Delinquency Based Economic Capital Estimation
Herrera-Almanza, Catalina, Essays on the Economic Transition to Adulthood: Migration, Fertility and Education Decisions Among Young Women in Sub-Sahara Africa
Hill, Elaine Lawrence, Three Essays on the Impacts of Unconventional Drilling on Early Life Health
Jales, Mario De Queiroz Monteiro, Essays on International Trade: Subsidies, Tariffs and the World Trade Organization
Jensen, Nathaniel Duane, Basis Risk, Uptake and Impacts of Index Based Livestock Insurance in Northern Kenya
Jeon, Woo Young, The Impact of Wind Generation, Deferrable Demand, and Utility-Scale Storage on System Costs and Customers? Payments for Electricity
Kher, Romi, Essays on Entrepreneurial Risk Preferences and Career Choices
Landry, Joel Reid, Three Essays on Incomplete Climate Policy in a Second-Best World
Leard, Benjamin Paul, Essays in Environmental and Energy Economics
Lopes, Adrian Anthony, Essays on the Economics of Poaching
Qin, Yu, Three Essays on Infrastructure Investment in China
Villa, Kira Marie, Three Essays on the Economics of Childhood Development, Human Capital Formation and Psycho-Social Well-Being
Master of Science
Bageant, Elizabeth Rose, Gender Differences in Demand for Index Based Livestock Insurance
Baker, Dustin Richard, Spatial Econometric Model of Milk Supply and Demand: Analysis of the Farm Bill Dairy Title
Chang, Dizi, An Economic Analysis of Calamities and Conflicts in Rural China: 1929-1933
Chen, Xiu, The Salience of Excise vs. Sales Taxes on Healthy Eating: An Experimental Study
He, Jing, China CAFÉ Policy Mix: The Technological Trade-offs and Progress, Compliance Feasibility and Welfare Analysis
He, Xiao Yang, The Convergence of Welfare Estimates Employing Travel Cost and Contingent Valuation Method: Evidence from New York State Anglers
Kangvonkit, Pensiri, Do Mutual Fund Managers Go With the Flow? An Examination of Fund Manager's Response to Capital Control Policies
Khan, Muhammad Jawad, Testing the Convergent Validity of Contingent Valuation and Travel Cost Methods for Valuing the Recreational Fisheries in New York State
Lee, Yu Na, Trade Adjustment Assistance for Farmers in the U.S.: Program Participation and Policy Impact
McGranaghan, Matthew Francis, Food Purchasing Behavior and Price Interventions: How Taxes and Subsidies Affect Grocery Store Food Choices in a Field Study
Qian, Jing, Factors Affecting Feeder Cattle Prices in New York State
Rowland D, Haley Melissa, Distribution Channel Choice of Local Food Marketing Firms in New York State
Shepherd, Justin Scott, The Complex Structure of the U.S. Biofuel Mandate and Implications for World Biofuel and Grain/Oilseed Prices
Song, Liang, The Effectiveness of Market Development Programs for U.S. Dairy Products
Spink, Elizabeth M., The Effect of Recall Bias on Welfare Estimates in a Travel Cost Recreational Demand Model: Evidence from New York State Angler Participation
Sun, Yingzong, A Spatial Econometric Estimation Model for U.S. Farmland Values
Tang, Yijia, A Case Study of Price Premiums for Local Foods
Uber, Amy Joy, A Household Level Analysis of Poverty and Food Security Characteristics During the 2007 Recession within New York City
Wang, Ruitong, Impact of Advertising Content on Food Demand by Overweight and Normal-Weight Individuals
Yeh, Dourong Adeline, Supply Chain Impacts of an Increased Vegetable Demand: The Case of Cabbage
Zheng, Fengping, Risk, Speculation and China's Cross-Listing Share Premium
Zhu, Pei, Effects of E85 Fueling Stations and State Incentives on Private Flex Fuel Vehicle Demand
Master of Professional Studies
Couch, Amy Joy, An Examination of Colombia's Environmental Education Initiative
Qu, Yan, Self-Selection in International Migration and Distribution of Wages – Evidence from China and the United States
2013
Doctor of Philosophy
Cooper, Kristen Brinley, Three Essays on Environmental Economics and Human Behavior
Drabik, Dusan, The Market and Environmental Effects of Alternative Biofuel Policies
Harou, Aurelie Patricia, Three Essays on Smallholder Welfare: Market Access and the Dynamics of Technology Adoption
Ouyang, Yusi, Three Essays on Inequalities Between Ethnic Minority and Majority Populations in China
Taira, Yasushi, Effect of World Bank's Traffic Light System on International Financial Flow to Developing Countries
Verteramo Chiu, Leslie Javier, A Risk Analysis of Farmers in Mexico: Prices, Risk Rationing and Conflict
Master of Science
Amatyakul, Wansopin, The Impact of Menu Labels on Changing Eating Behaviors: An Experimental Study
Channa, Hira, Scalability of Remotely Sensed Livestock Insurance in East Africa
Kelley, Erin Munro, Do Risk Preferences Influence the Decision to Adopt New Technologies
Lane, Gregory Van Pelt, Energy Markets in Kenya: The Impacts of Imperfect Markets on Rural Households
McAvey, Kevin Casey, The Impact of State Tax Expenditures on Economic Development and Agricultural Development Outcomes
Mulford, Michael Rhode, Smallholder Market Participation and Welfare Effects: Evidence from the Kenya Dairy Sector
Perla, Joseph Michael, Do Restaurants Cater to Locapours? Using Zagat Survey Data to Examine Factors that Influence Wine List Selection
Rao, Tanvi, The Impact of Community Health Workers on Childhood Immunization: Evidence from India's ASHA Worker Program
Smith II, Bobby Joe, Identifying Factors Influencing a Hospital's Decision to Adopt a Farm-to-Hospital Program
Yoo, Han Kyul, The Effects of Renewable Energy Policies on Landfill Gas-to-Energy Project Development
Zhao, Tianli, Economic Modeling of Point-to-Point Source Water Quality Trading in the Upper Passaic Watershed Accounting for Fixed and Variable Costs
Master of Professional Studies
Brown, Ryan Emerson, Quinoa: Food Security, Commoditization, and Environmental Challenges in the Bolivian Altiplano
2012
Doctor of Philosophy
Cao, Ying, Risk Perception, Judgment and Information Processing: Evidence from Experiments
Chen, Xi, Essays on Social Networks: Relative Concerns, Social Interactions, and Unintended Consequences
Cho, Jaesung, Three Essays on the Economics of Dairy Nutrition and Disease Control
Lamadrid, Alberto J., The Welfare Effects of Renewable Energy Integrating into Electricity Markets
Lee, Jun, Three Essays on the Economics of Vertical and Spatial Relationships in Specialty Crop Supply Chains: CO2 Emission Policies, Price Transmission and Market Power
Mo, Jung Youn, Economic Analyses of Plug-in Hybrid Electric Vehicles, Carbon Markets, and Temperature-Sensitive Loads
Rockmore, Marc Etienne, Three Essays on Conflict, Insecurity, and Livelihoods
Taber, John Timothy, Essays on Carbon Abatement and Electricity Markets
Tan, Qinwen, Three Essays on Welfare Effects of Government Intervention
Vararuth, Sivalai, Land Use Rights Transaction, Credit Choices, Risk Rationing, and Entrepreneurship Amongst Chinese Farm Households
Wongsasutthikul, Paitoon, Hurst Trading with an Excursion into Fractal Space of Returns
Master of Science
Byrd, Elizabeth Sheryl, Application of the Competitive Storage Model to U.S. Corn Ethanol Policy
Chan, Stephanie, Economic Performance of Organic Cropping Systems for Vegetables in the Northeast
Finseth, Ryan Michael, Cost-Effective Recovery of an Endangered Species: The Red-Cockaded Woodpecker
Ho, Shuay-Tsyr, Welfare and Nutritional Implications from Changes in Government Expenditures for U.S. Agricultural Export Promotions
Kher, Romi, Do Entrepreneurship Courses Change an Individual's Attitude Toward New Venture Creation? Results of a Quantitative Assessment of the Cornell Entrepreneurship Program
Ricketts, Katie Diane, What is the "Value" in the Value Chain Approach? Smallholder Risk Assessment, Mitigation, and Coping Behavior Among High Value and Conventional Cocoa Chains in Ghana
Robb, Fahran Kathaleen Jayme, U.S. Transportation Sector: The Potential of the Renewable Fuels Standard and Corporate Average Fuel Economy Standard to Reduce Greenhouse Gas Emissions and Gasoline Consumption
Wu, Di, Hurst Exponent and the Pricing of Cross-Listed Shares: Empirical Evidence from China's Stock Market
Xu, Xiaolan, What Lenders Think Borrowers Think of Lending and Lenders: A Psychographic Study of Rural Credit Cooperatives in Shandong, China
Master of Professional Studies
Kveragas, Anthony J., A Case Study of Food Service Sustainability of Cornell University
Moncada-Brito, Alin Nirvana, Renewable Energy in Mexico: Where are We Standing Now and What to Expect for the Future?
2011
Doctor of Philosophy
Cen, Wei, Essays on CEO Inside Debt
Mahathanaseth, Itthipong, Three Essays in Banking Sector of Thailand
Nakane, Masato, Changes in Japanese Household Income, Savings, and Consumption
Narayanan, Sudha, Contract Farming as Frictional Equilibria: A Theoretical Perspective with Empirical Excursions in India
Tanompongphandh, Thanasin, Three Essays on Market Efficiency: Global Price Leadership, Informal Parallel Markets, and Market Microstructures
Master of Science
Atiquzzaman, Fnu, Oil, Capital and Hartwick's Rule
Chua, Hans Walter, Time-Varying Optimal Hedge Ratios for Soybean Meal Trading
Cui, Xiaolin, Ownership Structure and Price Disequilibrium Between A and B Shares on China's Stock Markets
Gadsden, Michael Henry, The Economics of Gasoline Regulation: Price Impacts and Consumer Costs of Environmental Air Quality Programs
Lee, Wan-Chen, You Taste What You See: Do Organic Labels Bias Taste Perceptions?
Li, Jie, Factors Influencing Adoption of Integrated Pest Management Practices in Northeast Greenhouse Ornamentals
McLaurin, Megan Kathleen, Applicability of the Normalized Difference Vegetation Index in Index-Based Crop Insurance Design
Qin, Yu, Evaluating the Impact of Public Work Schemes on Interregional Movements of Labor: Theoretical Framework and Empirical Evidence from China
Rizwan, Maleeha, Evaluating the Impact of the Fruit and Vegetable Dispute Resolution Corporation (DRC) on Fresh Product Trade Among NAFTA Countries
Schnitzer Raab, Pascale, Barriers to Children's Cognitive Achievements: Evidence from Senegal
Stenclik, Derek Phillip, Understanding Private Forest Owner Participation in Future Carbon Offset Programs in the Catskills Region: A Contingent Valuation Approach
Sun, Lin, The Greater Fools Theory and The Bubbles in Chinese Stock Market: A Behavioral Approach
Toor, Mehr Ahmad, Urban-Rural Inequality in Living Standards in Pakistan
Twum-Barima, Asare, Smallholder Farm Household Labor Allocation and Idiosyncratic Shocks in Southern Ghana
Wang, Yiwo, The Effects of Government Sponsored Enterprise (GSE) Status on the Pricing of Bonds Issued by the Federal Farm Credit Banks Funding Corporation (FFCB)
White, Corey David, Integrating Plug-In Hybrid Electric Vehicles and Vehicle-to-Grid Technology into the New York Electricity Market
Xavier, Arnold Jeremiah Godfrey, Market Reform and Its Impact on the Price Transmission in the Coffee Supply Chain: A Case Study of Colombia, Ghana and Ivory Coast
Xia, Yidi, Can a Milk-to-Feed Price Ratio Futures Contract Help Farmers? A Study Based on New York Dairy Industry
Xu, Zhen, Did Cash-for-Clunkers Save Lives?
Zhao, Yan, Automatic Patent Classification Using Support Vector Machines and its Applications
Master of Professional Studies
Carman, Thomas Conrad, Can Harvest Intervals Determine Efficiency in Modern Portfolio Optimization Models
Jidenma, Nmachi, Smart Meter Usage in the United States
2010
Doctor of Philosophy
Anand, Rahul, Three Essays on Monetary Policy in Emerging Economies with Financial Frictions
Deuss, Annelies,The Economic Impacts of Sugarcane Expansion in Brazil
Han, Qian, Equilibrium Market Prices of Risk Aversion in a Complete Stochastic Volatility Model with Habit Formation: Empirical Risk Aversion from S&P 500 Index Options
Maertens, Annemie, Social Networks, Identity and Economic Behavior: Empirical Evidence from India
Michelson, Hope Carolyn, Small Farmers and Big Retail: Trade-Offs and Dynamics of Supplying Supermarkets in Nicaragua
Qin, Luyang, Essays on Information Asymmetry in Equity Market
Yang, Xi, Bioeconomics of Invasive Species: The Gypsy Moth
Zhang, Jiahong, Essays on Innovation and Capital Structure
Master of Science
Hall, Jeffrey Scott, The Impacts of Agglomeration Economies and Market Access on Firm Growth: An Empirical Assessment of Food and Beverage Manufacturing in New York State
Kanter, Christopher Axtell, Does Production Labeling Stigmatize Conventional Milk?
Klotz, Richard Lawrence, The Greenhouse Gas Emissions Consequences of the Renewable Fuel Standard
Neyhard, James Harvey, Analysis of Risk Management Strategies in the Dairy Industry Using Monte Carlo Simulation Techniques
Salazar, Gabriela Luisa, The Elasticity of Demand for Microcredit: A Case Study in the Dominican Republic
Weaver, Robert Vance, Structural and Marketing Changes in U.S. Retailing, 1987-1997, Foundation for the Future
Yu, Cao, An Application of Risk Contingent Credit Applied New York Dairy Farmers with U.S. Options on Class III Milk Futures
2009
Doctor of Philosophy
Goto, Hideaki, Three Essays on Labor, Inequality and Poverty
Green, Alan Morgan, The Role of Political Institutions in Economic Development: An Empirical Investigation
Kumar, Chandra S., Credit Rationing and the Economics of Informal Lending: Theoretical Results and Econometric Inferences Using the Household Surveys from China and India
Li, Guohua, Informed Institutional Trading and News Announcements
Ju, Jaeuk, Transmission Networks and Financial Rights in the New York Electricity Market
Mhlanga, Nomathemba, Three Essays on Financial Markets and Investments in Africa
Yao, Yi, The Impact of Fiscal Decentralization on Growth, Inequality and Local Governance in Rural China
Master of Science
Luo, Jianchuan, Optimal Entry and Exit in the Ethanol Industry: A Real Options Analysis with Two Stochastic Variables
Norton, Michael Theodore, Three Topics in Weather Index Insurance
Shen, Ning, Institutional Algorithmic Trading, Statistical Arbitrage and Technical Analysis
Villa, Kira Marie, Nutrition and Dietary Diversity in East African Pastoralist Households: Mental Accounting, Market Failures, and Intrahousehold Allocation
Waldman, Kurt Benson, Ex-ante Impact Evaluation of Livestock Interventions in Crop-Livestock Systems in Northern Afghanistan
Williams, Brock Robert, Revisiting the Trade Complexity and Economic Growth Nexus: Does Trade Composition Matter?
Yoon, Sang Won, Strategic Output and Green Technology Rivalry in a Globalized World: Theory, Empirics and Policy Implication
Master of Professional Studies
Belltawn, Burgen Cherie, Forecasting Emergency Meal Demand for the Food Bank for New York City
LeRoux, Matthew Neil, Marketing Channel Options for Small-Scale Diverse Vegetable and Fruit Producers
Shum, Wai Lam William, Education and Labor Productivity in China: A Factory Level Case Study
2008
Doctor of Philosophy
Cheng, Mei-Luan, Essays on Specialty Crop Production and Risk Management in the United States
Dillon, Andrew Scott, Child Labor and Agricultural Production in Northern Mali
Gajwani, Kiran, Essays on Regional Inequality, Decentralization, and Development
Hoffmann, Vivian Eliza, Essays on Poverty Alleviation and Health Promotion in East Africa
Kropp, Jaclyn Donna, Experimental Approaches to Trust-Based Lending: A Comparison Between China and the United States
Naschold, Felix, Four Papers on Structural Household Welfare Dynamics
Shawhan, Daniel Lloyd, Three Essays on Addressing New Challenges for Energy Policy
Suter, Jordan Frederick, Essays on the Economics of Land Use and Water Quality
Zhou, Xing, Informed Trading and Its Implications for Corporate Bond Pricing
Master of Science
Alam, Ghazi, Trophy Hunting: An Age and Sex Structured Model
Ang, Margaret Guat Hee, A Bioeconomic Analysis of the Pacific Halibut Commercial Fishery in Southcentral Alaska (Regulatory Area 3A)
Devlin, Claire Rachel, The "Thin-Body Ideal" in Advertising Featuring Female Models: What is the Impact on Women's Eating Behavior of Exposure to Such Advertising?
Hou, Janet Ying, The Inverse Productivity Relationship and Soil Quality: Evidence from Madagascar
Kim, Sung Jae Francis, Equity Market Reaction to Federal Reserve Policy Surprises: An Event Study Using Ultra-High Frequency Data
Pasta, Catia, Familiarity and Consumer Behavior: Origin of the Product and its Influence on Consumer Decision Making
Rusmevichientong, Pimbucha, Two Essays on U.S. Grain Export Promotion
Tanompongphandh, Thanasin, On the Impossibility of Testing Weak-Form-Efficiency of Ultra-High Frequency Stock Prices
Videbaek, Steen, Rates and Reliability: Insights into the New York Electricity Market
Wiranto, Wellian, Reaction of Stock Market to Monetary Policy Surprises
Master of Professional Studies
Feldman, Jay Stephan, A Case Study in Municipal Carbon Abatement Policy
2007
Doctor of Philosophy
Kolady, Deepthi Elizabeth, Genetically Engineered Eggplant in India: Three Essays on Adoption, Economic Feasibility, and Varietal Diversity
Mutambatsere, Emelly, Regional Trade and Food Security in Southern Africa: Comparative Advantage, Welfare and Market Efficiency
Power, Gabriel John, A Wavelet-Based Analysis of Commodity Futures
Santos, Paulo Jose, Risk, Growth and Social Networks
Shimokawa, Satoru, Three Essays on the Causes and Consequences of Nutrition Transition in China, 1991-2000
Slaibi, Ahmad Ali, Three Empirical Studies on the Geopolitics of Petroleum Pricing, Revenue Sharing, and Macroeconomic Implications of Petroleum Revenues on Developing Countries
Wang, Shenghui, Sustainable Development of Biotechnology: Three Essays on Bt Technology Impact, Performance Evaluation and Dynamic Optimization in China
Master of Science
Cho, Jaesung, Milk Composition and Farm Business Characteristics: SUR Estimation of Production Functions Versus an Output Distance Function
Mugoya, Mainza, The Impact of the Market Information Service on Pricing Efficiency and the Transmission of Prices between Maize Markets in Uganda
Nakane, Masato, An Empirical Analysis of Profits on Dairy Farms with Price Fluctuations
Routhe, Christopher Scott, Simulating the Impacts of Agroterrorism on U.S. Financial Markets and Regional Economic Performance
Shee, Apurba, Commodity Linked Credit: A Risk Management Instrument for the Agrarians in India
Shultz, Joseph A., A Dynamic Participation Decision Model Applied to the Conservation Security Program on Northeastern United States Dairy Farms
Tanaka, Atsuko, Effects of Anti-Poverty Bias in Aid Allocation: Theory and Empirical Investigation of the Case of Japan
Yoneyama, Rena, The Determinants of the Reduction of Generic Drug Prices Relative to Brand Drug Prices in the U.S. Pharmaceutical Market
Master of Professional Studies
Mason, Katherine Bishop, An Evaluation of Cover Crop Usage in No-Till Organic Agricultural Systems
McLean, Taylor Marie, Aquaculture Development in the Ashanti Region of Ghana: A Capacity Building Strategy for Small-scale Production
Reyes, Nidia, Determinants of Credit Quality: An Analysis for Colombia
2006
Doctor of Philosophy
Abe, Naoya, Studies in Resource Economics: Scrap Tire Abatement and Watershed Management for Water Source Protection
Bellemare, Marc, Three Essays on Agrarian Contracts
Chang, Hung-Hao, Economic Analysis of the Interrelationships Among Off-farm Work, Participation in the Conservation Reserve Program, and Farm Productivity of Farm Households in the United States
Chavez-Martin del Campo, Juan Carlos, Three Essays on Poverty Analysis
Wang, Dabin, Price Risk Management by Dairy Farmers
Master of Science
Berg, Andrew Ryan, Forecasting Natural Gas Prices Using Time Series Models
Byma, Justin Paul, Efficiency of New York Dairy Farms: Exploring the Role of Managerial Ability
Chavis, Larry Wilson, Analysis of the Events that Sustained the Crisis in Indonesia
Davidowitz, John Edward, Direct Sales and Marketing Channels and Their Impact on North American Wineries: Vintages 2001-2003
Enahoro, Dolapo Keshia, An Assessment of Farm Savings Accounts and the Ability of Farms to Participate
Gallardo, Maria Lourdes, Ethnicity-based Wage Differentials in Ecuador's Labor Market
Johnson, Lacey Ann, Earnings Determinants for Own-Account Workers in the Urban Informal Economy: The Case of Bogota, Colombia
Larsen, Peter Hallick, An Evaluation of the Sensitivity of U.S. Economic Sectors to Weather
Lee, Sam Seob, Recent Changes in the Korean Retail Sector: An Analysis on the Effects of Customer Satisfaction and Store Image on Sales Performance
Maratou, Laoura Maria, Bargaining Power Impact on Off-Invoice Trade Promotions in U.S. Grocery Retailing
Molapisane, Keneilwe Ruth, Land Degradation in Botswana's Rural Areas
Randriamamonjy, Josee, The Socioeconomic Correlates of HIV/AIDS Knowledge and Condom Use in Madagascar
Roy, Sonali, The Emerging Economy-Industrial Complex
Sado, Yukako, Potential Cost Savings from Discharge Permit Trading to Meet TMDLs for Phosphorus in the Passaic River Watershed
Sakiyama, Tomoyo, Determinants of Child Health in Rural Nepal: An Empirical Study
Taber, John Timothy, Examining the Effects of Deregulation on Retail Electricity Prices
Zhao, Bin, Familiarity, Convenience, and Money: Spanish and Mexican Silver Coins in China's Economy
Master of Professional Studies
Ingdahl, Oscar Jan, Analysis of Diversion in the U.S. Grocery Industry
Novakovic, Steven Milovan, A Meta Analysis of Contingent Values for Ground Water Quality
2005
Doctor of Philosophy
Cai, Xiaobin, An Evaluation of Investment Incentives for Maintaining System Adequacy in Deregulated Markets for Electricity
Hogset, Heidi, Social Networks and Rural Development: Theory and Applications in the Kenyan Highlands
Kotani, Koji, Three Essays in Environmental Economics
Manopiniwes, Chanin, A Computable General Equilibrium (CGE) Model for Thailand with Financial and Environmental Linkages: The Analyses of Selected Policies
Zhang, Ning, Essays on Market Mechanism and Market Participants' Bidding Behaviors in Electricity Market
Master of Science
Brian, Jerry Wallace, New Yorkís Non-Industrial Private Forests: Timber Prices, Property Tax Exemption, and Management
Cappers, Peter Andrew, An Evaluation of Demand Response in New York Stateís Wholesale Electricity Markets
Cook, Justin Daniel, Issues on Disciplining Domestic Support for Agriculture in the WTO
Gallegos, Carlos Eduardo, Exchange Rate Pass-Through to Domestic Consumer Prices and Financial Dollarization in Central America
Katsumata, Kentaro, An Empirical Analysis of Stanchion and Parlor Milking Costs in New York Dairy Farms: Cost Curve and Cost Function Approaches
Kliauga, Erika Madeira, An Empirical Examination of Tariff Rate Quota Liberalization and the Role of Administration Methods
Kobayashi, Rei, Optimal Management of Antibiotics in U.S. Swine Production
Kropp, Jaclyn Donna, The Economics of Infra-Marginal Subsidies: Exits and Cross-Subsidization
Lentz, Erin Coniker, Targeting Food Aid to Improve Food Security
Marenya, Paswel Phiri, Socio-Economic Factors Affecting the Adoption of Natural Resource Management Practices Among Smallholder Farmers in Western Kenya
O'Gorman, Brendan Eckhardt, An Analysis of Alternative Modes of Entry Into Dairy Farming
Pagel, Erica Jean, Dynamic Patterns of Change in Structure Under Different Support Policy Regimes: An Examination of U.S. Dairy Farming
Pomeroy, Amanda M., A Dual Burden: Anemia and Obesity in Uzbekistan
Pu, Hsien Yun, The Theory of Optimum Currency Areas: An Application to the Commonwealth of Independent States
Severn-Walsh, Marygold, Adoption Patterns of Genetically Engineered Cotton in Tamil Nadu, India: An Empirical Study
Wang, Yu, The Impact of Generic Advertising on Fluid Milk Demand in New York City: Econometric Approaches
Zavale, Helder, Analysis of the Mozambiqueís Maize Seed Industry: Factors Influencing the Adoption Rates of Improved Seed by Smallholders and Determinants of Smallholdersí Cost Efficiency
Master of Professional Studies
Ames, Molly Patricia, Systems and Conditions Influencing Successful Implementation of a Strategic Business Change in a Family-Owned, Ag-Based Business
Dorociak, Christopher, Wind Energy Development in New York State: Issues for Landowners
Inamura, Mitsuhiro, An Analysis of Wide-Area Manure Distribution Policy in Japan: Spatial and Temporal Trends
Kondo, Makoto, An Examination of the Locally Initiated Agricultural Enhancement and Farmland Protection Programs in New York State
Milgrom-Elcott, Liore, Ecotourism Certification: An Analysis of Ecolabelling as a Means of Sustainable Development
2004
Doctor of Philosophy
Bishop, Phillip Michael, Dairy Market Impacts of US Milk Protein Imports and Trade Policy Alternatives
Brown, Douglas Ronald, A Spatiotemporal Model of Forest Cover Dynamics and Household Land Use Decisions by Subsistence Farmers in Southern Cameroon
Guvheya, Gibson, An Empirical Analysis of Smallholder Agricultural Productivity and Economic Efficiency in Zimbabwe: A Contribution to the Ongoing Land Reforms
Lee, Tsung-Cheng, Essays on Trade and Environmental Policies for an Open Economy
Lordkipanidze, Nazibrola, Modeling and Estimation of Long-Memory in Stochastic Volatility: Application to Options on Futures Contracts
Lybbert, Travis James, Technology and Economic Development: Three Essays on Innovation, Pricing, and Technology Adoption
Marini, Alessandra, Three Essays on Economic Determinants of Child Malnutrition
Moser, Christine Michelle, Explaining High Variability in Within Country Outcomes: Three Essays Using Spatially Explicit Data From Madagascar
Yoo, Shiyong, Using Weather Derivatives to Manage Financial Risk in Deregulated Electricity Markets
Master of Science
Comeau, John Paul, Consumer Preferences, Policy Mechanisms, and the Inverted Environmental Kuznets Curve
Gajwani, Kiran, Decentralization, Openness and State-Level Gains: Theory and Evidence in India
Jacquet, Jennifer Linn, An Economic Analysis of a New Carbon Sequestration Technology
Kimura, Takayuki, An Economic Analysis of Post-Uruguay Round Reforms of Rice Policies in Japan
Luong, Quoc Viet, Investment in Coffee Planting in Vietnam – A Real Option Analysis and Policy Recommendations
Mhlanga, Nomathemba, The Role of Foreign Direct Investment in Sub-Saharan Africa's Economic Growth: Evidence from the Region and A Case Study of Zimbabwe
Mensah-Dartey, Virgil Nunya, Strategic Planning/Management of Small Business Development Programs: A Case Study
Osterloh, Sharon Mei, Microfinance in Adverse Environments: The Case of KDA in Kenya
Suter, Jordan Frederick, Incentives and Enrollment in the Conservation Reserve Enhancement Program: An Approach Using Actual Enrollment and Geographic Information Systems (GIS) Data
Vanderpuye-Orgle, Jacqueline, Poverty, Spatial Inequality and Polarization: A Multifaceted Analysis of the Impact of Economic Reform in Ghana
Vega, Juan Carlos, The Economic Effects of Pricing Irrigation Water: An Application to the El Angel Watershed Carchi, Ecuador
Master of Professional Studies
Chen, Jie, Macronutrient Consumption Behavior of Chinese Urban One-Child Households
Inoue, Seisuke, An Empirical Analysis of the Minimum Access Rice Import Policy of Japan
Lang, Barbara, From Restaurant Plate to Retail Package
Mutalya, Edith, The Role of Institutions and Infrastructure in the Development of Agricultural Input Markets in Sub Saharan Africa: A Case Study of the Ugandan Seed Industry
Piper, Christina Marie, Direct Marketing Between Restaurants and Farmers: A Comparison of Three Case Studies in the Northeast United States
2003
Doctor of Philosophy
Gjertsen, Heidi Elisa, Context-Dependent Design and Performance of Conservation Strategies: Theory and Empirical Evidence from Marine Protected Areas in the Philippines
Mabaya, Edward, Smallholder Agricultural Markets in Zimbabwe: Organization, Spatial Integration and Equilibrium
Messer, Kent Donald, Willingness to Pay for a Public Good, Habitat Conservation, and Poaching: Three Essays in Environmental Economics
Novak, Michael P., Agricultural Credit Evaluation Modeling: A Creditworthiness Approach
Schmit, Todd Michael, Generic Dairy Product Advertising: Alternative Econometric Approaches to Demand Estimation and Evaluation
Vossler, Christian Allen, Essays on the Analysis of Economics Experiments with Environmental Applications
Master of Science
Gunderson, Michael Arthur, Profitability of Agricultural Lending Relationships
Qian, Kun, Corporate Governance, Corruption, and Valuation: A Close Look at Governance
Rozendaal, Christopher Mark, An Empirical Analysis of the Income-Environment Relationship in China, With Application to Industrial Wastewater Pollution
Sebastiano, Jody Neil, An Economic Analysis of the Adoption of a Genetically Modified Variety: The Case of the Hawaiian Papaya
Shimokawa, Satoru, The Transmission of Shocks via the International Lending of Commercial Banks
Van Orden, Sarah Beth, Forage Source Choices for New York's Dairy Farms
Wang, Dabin, Price Transmission and the Role of Federal Dairy Policy in U.S. Dairy Markets
Zbinden, Simon, Costa Rica's Payments for Environmental Services Programs: An Economic Analysis of Program Participation and Performance
Master of Professional Studies
Cheng, Mei-Luan, Management of a Stochastic Fish Stock: A Simple Model
Ziegenfuss, Katherine Elizabeth, Leasing of Natural Gas Drilling Rights on Public and Private Land in New York, Emphasizing Schuyler and Seneca Counties
2002
Doctor of Philosophy
Billah, Kaafee, Crop Production and Nutrition in Bangladesh
Conner, David Scott, The Organic Label and Sustainable Agriculture: Consumer Preferences and Values
Meyerhoefer, Chad, The Econometrics of Non-Standard Structural Demand Modeling: Applications to Transition Country Data
Pottebaum, David Andrew, Economic and Social Welfare in War-Affected Societies
Master of Science
Bopape, Lesiba Elias, Analysis of Spatial Price Relationships Among Spatially Differentiated Potato Markets in South Africa
Frank, Julieta Maria, Soybean Storage Hedging Strategies in Argentine Futures Markets
Kajikawa, Yasumasa, Beef Consumption in Japan Following Liberalization
Mutambatsere, Emelly, Structural Changes in the Maize Markets in Zimbabwe: Implications on Market Efficiency, Smallholder Agriculture and Food Security
Powers, Kyna Lynn, Hydropower Re-Licensing and the Environment: An Analysis of the Timing and Total Quantity of Electricity Generation
Preszler, Trent, Using Factor Analysis and Ordinal Logistic Regression to Model Perceptions of Ultra-Premium New York Wine Among Restaurateurs and Retailers in New York City
Rhinehart, Ingrid Anne, Spatial Analysis of Pastoralist Location Choice: Understanding Human-Wildlife Conflict in the Amboseli Region of Kenya
Youngblood, Kevin Rex, Financial Management Practices, Management Capabilities, and Competencies of New York State Dairy Farmers
Master of Professional Studies
Hayashi, Katsumasa, Cooperation Among Competitors: The Japanese Cold Chain
Jordan, William P., Comprehensive Nutrient Management Planning in the New York State Dairy Industry: How Will Increased Regulation Affect Farm Size Distribution?
Kyle, Charles Wesley, A Computerized Income Statement to Measure Profitability within a Diversified Farm Business
Liauw, Indrawati, Market Analysis for Chilled Ready Meals in Singapore
2001
Doctor of Philosophy
Ferraro, Paul John, Constructing Markets for Ecosystem Services: Essays in Conservation Contracting
Ning, Yumei, Modeling Spot Markets for Electricity and Pricing Electricity Derivatives
Peterson, Hikaru Hanawa, Commodity Price Behavior and Its Implication for Risk Management
Turongpun, Wichai, Contributions to an Empirical Study of the Asian Economic Crisis
Master of Science
Evans, Elizabeth Madeline, Efficiency and Equity in Water Allocation: An Optimization Model of The El Angel Watershed, Carchi, Ecuador
Fowlie, Meredith Lynn, Public Goods and Private Interests: An Analysis of Non-residential Demand for Green Power
Heinegg, Ayo Patrice, Effects of NAFTA and Procampo on Mexican Maize Producers: A Farm-Household Microsimulation Model
Huysentreut, Marieke els, Essays on Collective Action and Voluntary Provision of Public Goods Under Imperfect Information
Johnson, Rebecca Page, The Determinants of Educational Enrollment in Ghana: A Gendered Perspective
Kofner, Aaron, Costs and Benefits of Cluster Development and On-Site Decentralized Wastewater Treatment
Kotani, Koji, Simulating the Effects of Redemption of Harvesting Minke Whales in the Southern Ocean
Maliotis, Petros George, Optimal Organization for the Cyprus Olive Oil Industry: Restructuring and EU Accession
Meyerhoefer, Chad D., An Analysis of Poverty, Inequality, and Consumer Behavior in Romania with Implications for Tax Policy
Moser, Christine Michelle, Technology Adoption Decisions of Farmers Facing Seasonal Liquidity Constraints: A Case Study of the System of Rice Intensification in Madagascar
Mullen, Kathleen Rory, The Risk Reduction Effects of U.S. Direct Government Payments on Production and Welfare
Ohba, Yoshitsugu, An Economic Analysis of Acreage Diversion and the Tariff-Rate Import Quota for Rice in Japan
Pisoni, Mark Edward, An Investment Analysis of Small Premium Finger Lakes Wineries
Master of Professional Studies
Musnikow, Judith Beth, Community Participation in Eco-Industrial Development: A Manual in the Making
2000
Doctor of Philosophy
Christiaensen, Luc J., Measuring Vulnerability and Food Security: Evidence from Northern Mali
Gow, Hamish R., Essays on Contract Enforcement in Transition Economies
Hranaiova, Jana,Delivery Options in Futures Contracts and Basis Behavior
Machado, Kleber B., Funding Conservation Programs through the Use of Entrance Fees: The Case of the Galapagos National Park, Ecuador
Weng, Weifeng, Three Essays on Resource Economics: Demand Systems for Energy Forecasting, to Borrow or not to Borrow: A Variation on the MacDougal-Kemp Theme, and Valuing Reducing Risk for Households With Children or the Retired
Zhang, Xiao-Bo, Essays on Allocating Resources in the Chinese Economy
Master of Science
Boughner, Devry S., The Economics of 2-Tier Tariff-Rate Import Quotas: An Empirical Application to the United States Dairy Industry
Flandroit, Carlos M., Analyzing the Economic Viability of Exporting Vegetables to U.S. as a Step in the Diversification of the Argentinean Exportable Offer
Gobbee, Jose E., Responses to International Opportunities: The Case of the U.S. Dairy Industry
Jaroszewski, Laura M., Using a Land Allocation Model to Assess the Welfare Economic Implications of New York State's Conservation Reserve Enhancement Program
Kandiwa, Vongai, Economic Performance of Smallholder Farmers Using Alternative Vertical Coordination Mechanisms for Horticultural Crops: A Case of Zimbabwe
Koizumi, Satoshi, Spicing Up India's Pepper Industry: An Economic Analysis of the Indian Pepper Economy
Martin, Elisa, The Uruguay Round and the CAP: The Reform of the Fruit and Vegetable Common Market Organization
Ndow, Sirramatta A., Economic Feasibility of Producing for Export Markets: Agricultural Exports from The Gambia
Negiz, Onat, Effects of Government Conditions on Smallholders and the Raw Cashew Nut Sector in Mozambique: A Welfare Analysis
Ngure, Njoroge, Economic Valuation of Protected Areas and the Demand for Visitation to U.S. National Parks
Pellathy, Louis J., Binomial Pricing of Electricity Contracts
Samodo, Leonardo, Industry Performance in New York State: A Shift Share Analysis on Employment Growth and an Establishment Analysis
Santos, Carlos A., Empirical Test of the Initial Stage of the Internationalization Process: Small Food Firms of Northeastern United States
Schluep, Isabelle, The Law and Economics of Consumer 'Only' Financed Subsidies: A Context for the WTO Panel on Canadian Dairy Pricing Policy
Master of Professional Studies
Chua, Lawrence G., A Study of Mass-Customized Prepared Food Delivery
Lacouture, Maria C., Research on Market Development and Potential for Organic Palm Oil
Lee, Kan-Ping, The Food Manufacturers' Marketing Strategies in Home Meal Replacement
Ruszkiewicz John P., Economics of Drip Irrigation for Onions in New York State
Yarnell, George O., An Economic Analysis of Custom Forage Harvesting Services on Northern New York Farms
1909-1999
When Warren Hall was dedicated in 1932, Professor George F. Warren and the faculty committee in charge of the celebration distributed a summary of the advanced degrees that had been awarded in farm management, marketing, rural economy, and agricultural economics at Cornell University until that time. A copy of the report was placed in the cornerstone of the building.
In 1999, Emeritus Professor Bernard F. (Bud) Stanton prepared a new report for the field of Agricultural Economics (now called the field of Applied Economics and Management), beginning with the 1932 listing and continuing through August 1999 (Research Bulletin 2000-01). In most cases, a copy of each thesis or dissertation can be found in Mann Library.
Kibrom Tafere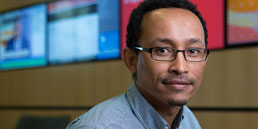 Anticipated Degree and Concentration
Ph.D., International and Development Economics
Current Research Focus
My dissertation research focuses on the effects of aspirations on wealth outcomes of poor rural households; the subjective well-being effects of index insurance that doesn't payout; and intergenerational persistence of early life exposure to severe shocks.