Proud to be Dyson, proud to make a difference.
Dyson alumni carry out our vision—"Our Business is a Better World"—in various, impactful ways. How will you stay connected?
As students, you learned to think about business, people, and the environment holistically. This is the Dyson difference. It's what empowers our alumni to stand out and influence positive change among industries, companies, and people. Whether you graduated one year ago or many years ago, you are Dyson, and you are the difference.
Dyson means diversity.
As Dyson alumni, you represent diverse backgrounds, ethnicities, and professional areas of focus—but you're all connected by Dyson's unique, humanitarian-focused business outlook. From farm owners and business founders to CEOs of Fortune 500 companies, alumni hold leadership roles around the globe in almost every industry imaginable.
There are several ways to stay engaged with Cornell University, Dyson, and the SC Johnson College of Business. Explore our programming and resources for Dyson alumni below.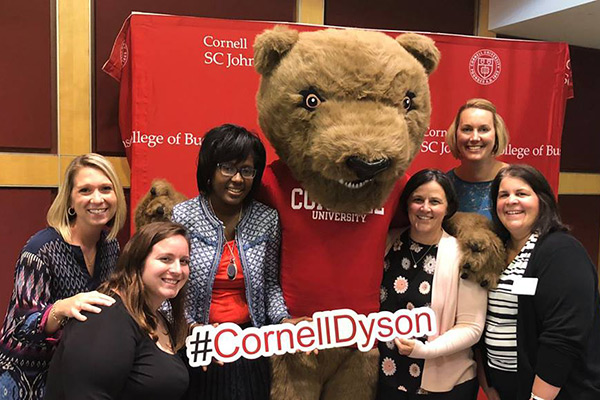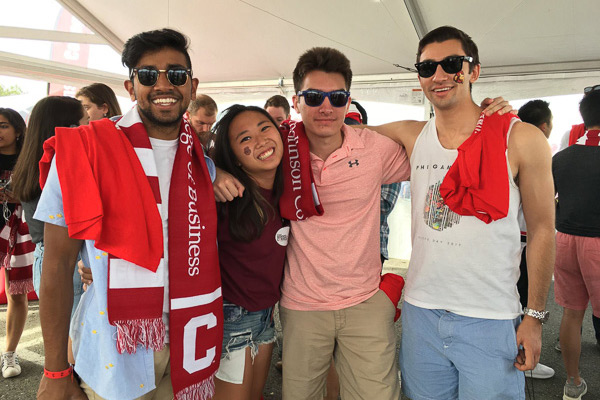 Because business never stops, join us online
The Cornell SC Johnson College of Business invites Dyson alumni to register for these upcoming community events featuring faculty, alumni, and industry experts.
Expand your network and stay in touch
Connect with fellow alumni, keep your contact information up to date, and provide job opportunities for Dyson students and graduates.
Search for alumni
Search for Cornell and Dyson alumni using the university's directory, CornellConnect. Make sure your contact information is updated!
Alumni Directory
Hire a student or graduate
If you're interested in hiring a Dyson intern or graduate, connect with the Career Management Center.
Contact the CMC
Join us for an event
Connect with Dyson online, catch up with classmates, and take advantage of college programming for alumni.
View Events
Shape the future as a Dyson mentor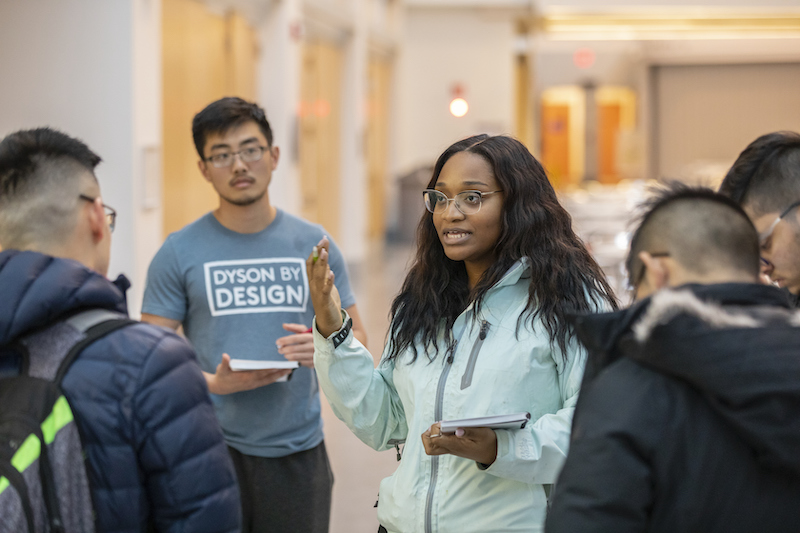 You can make a lasting impact in the lives of current students who are eager to hear your story and learn about your post-Cornell experiences. Connect with us using the CUeLINKS university platform. Be sure to use "Dyson School" in your profile description.
Host a visit at your company through career treks or externships
Propose or sponsor case studies and grand challenges
Speak in a class or as part of a small-group roundtable
Offer one-on-one mentoring or career guidance
Become a lifelong learner
Develop your skills and continue learning long after you leave Cornell. You can connect with eCornell, earn a certificate, take a course, or view university webinars and live streams.
Live streams and digital content
Stay informed and entertained with online programming. You can access live steam content with your NetID and password.
Connect Online
Executive education
Leverage the power of Dyson and Cornell with in-person and online professional development courses and content delivered by faculty in the SC Johnson College.
Learn More
Learn with eCornell
We've partnered with eCornell to offer specialized certificate programs at a discounted rate. Use the code SCJOHNSON30 through June 30, 2020 and receive 30% off.
Visit eCornell
Explore career resources
Take advantage of career resources and programming from Dyson and the Cornell SC Johnson College of Business. Alumni have access to career coaches, several tools, and exclusive job postings on LinkedIn.
Online tools and career coaching
Review the SC Johnson College's collection of resources or talk one-on-one with an alumni career coach as you plan your next steps to advance your career.
Learn More
Connect on LinkedIn
Join the official Cornell Dyson LinkedIn group—a place for students, alumni, faculty, and staff to share content, post jobs, and find new opportunities.
LinkedIn
Alumni career support
Leverage the Cornell network by connecting with fellow alumni, exploring career resources, including programming by industry, and discovering your college resources.
Learn More
Check out digital content at Dyson
Experience Dyson from afar as you listen to the Present Value podcast, often highlighting Dyson faculty; read news and views related to academics, student experience, and faculty thought leadership; and watch videos featuring special guests.
Featured videos
The Cornell SC Johnson College of Business YouTube channel features thought leadership and remarks from Dyson's guests and other special events.
YouTube
Present Value podcast
The Present Value podcast is produced by Johnson MBA students and highlights faculty research across the SC Johnson College.
Spotify
BusinessFeed news and views
BusinessFeed is Dyson's official publishing platform where you'll find student voices, news, and alumni and faculty features.
BusinessFeed
August 24, 2022
Dyson graduate Stephanie Evans '10, Pamoja founder and senior digital product manager at Tapestry, is blazing a trail in the fashion industry.
July 6, 2022
Ilya Brotzky '10, cofounder and CEO of tech recruitment company VanHack, launched a campaign to relocate and employ Ukrainian software developers.
February 3, 2022
Cheick Camara '22 is the co-founder of BlackGen Capital—a student-owned and led investment fund that was developed to address the lack of representation within Cornell University's financial clubs.