CEMS Master in International Management (MIM) Program Curriculum
Cornell Dyson's MPS in AEM with the CEMS Master in International Management is a 16-month degree program that requires three semesters of full-time study and an international internship. All CEMS graduates receive a masters degree from their home institution, as well as the CEMS Master in International Management (MIM).
Cornell CEMS students choose an MPS concentration. Cornell's CEMS model is considered an "integrated CEMS model," meaning that students complete CEMS and MPS coursework at the same time. Some courses are specific to CEMS or to MPS and some courses fulfill requirements for both.
During the first two academic semesters (Term 1/Fall Semester and Term 2/Spring Semester), students complete the core elements and electives of the CEMS curriculum and some MPS coursework. Either Term 1 or Term 2 is spent abroad at a host school in the CEMS consortium. One of the most unique aspects of CEMS is the movement of students between the CEMS schools. You will study with students from across the CEMS network during Term 1 and Term 2, whether at Cornell or your exchange school abroad. Students finish the remaining MPS requirements during their final semester (Fall of their second year).
As an international program, CEMS has language requirements. All coursework across the CEMS network is taught in English, but students must be proficient in a second language at the time they apply (intermediate/advanced skills) and should have acquired basic language skills in a third language before completing the program.
In addition to the classes that appear on your Cornell transcript, CEMS students take Skills Seminars which are designed to prepare you for your career in business. Skills Seminars are offered during Terms 1 and 2 at your home school and host school, often delivered by a CEMS corporate partner.
Immediately prior to the start of Term 1, you will join the rest of the CEMS students at the school where you are beginning your studies to take the Block Seminar, an intensive, week-long immersion course in a topic relevant to international management. This provides students the opportunity to develop relationships with other CEMS students and to quickly dive into their program and get to know the region where their school is located.
Please see the table below for an overview of the curriculum timeline: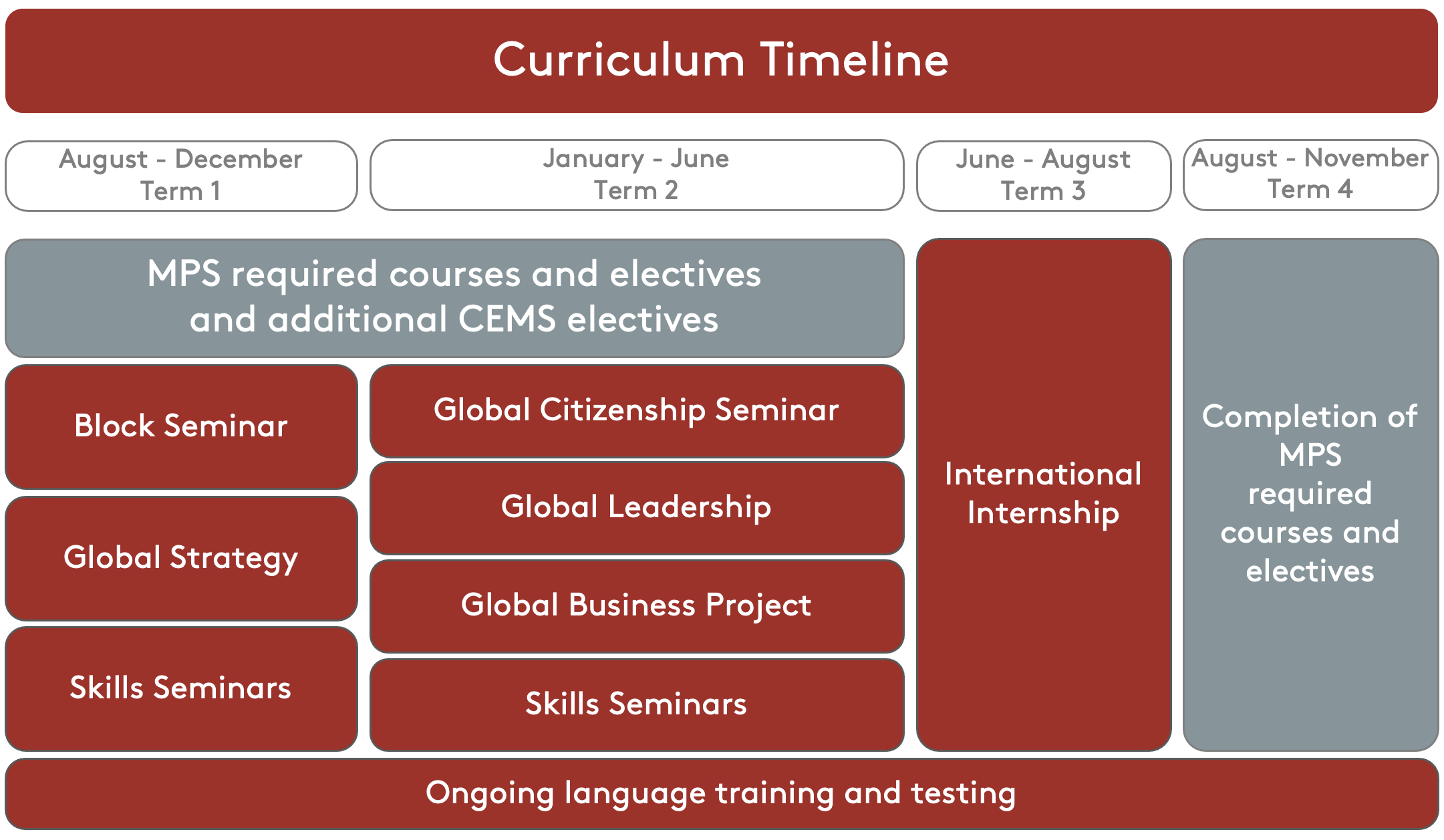 The curriculum is aligned across all CEMS member schools. Within these general program rules, member schools offer their interpretation of the curriculum in a way that reflects the local identity.
In addition to their Cornell graduation, students will be invited to attend the CEMS international graduation ceremony following completion of all MPS and CEMS degree requirements. The CEMS graduation is hosted by a different CEMS school each year, and during this time the students will join peers from other CEMS schools around the globe in an international celebration of their dedication and achievements.
Questions about the curriculum? Contact us at cems@cornell.edu.