Careers
Everything about your Dyson academic experience is geared toward helping you make an impact, from your first job through your entire career.
Dyson School students are recruited by top employers in the private sector for careers in banking and finance, marketing, management, consulting, accounting, auditing, retailing, sales, and operations, as well as for positions in the public and nonprofit sectors. You'll have opportunities to interview with global industry leaders, startups, non-profits, and government organizations through on-campus recruiting and a diversity of other networking avenues, from career treks to conferences to spontaneous meet-and-greet sessions in our new, state-of-the-art Collaboration Zone.
Because students majoring in applied economics and management are in such demand, their starting salaries are higher than the national average of business majors.
Career Education and Professional Development
Helping you connect with the people and resources to launch your future … and change the world.
You will want to become familiar with the outstanding services provided by the Dyson career management team—even in your freshman year. It is never too early to begin exploring career and internship opportunities by attending our career fairs, company information sessions, and workshops, and using the career libraries and databases.
At Dyson, career discovery and preparation are woven into your academic experience. In your freshman year, you will be required to reach out to mentors for career exploration, write your resume and cover letter, and start building your personal brand. Engaged-learning courses and exchange programs challenge you to think broadly about your career options. And class speakers give you exposure to specific industries and career paths, including the day-to-day responsibilities of a given position.
Located in Warren Hall, the career center is also committed to helping you develop the professional skills needed to succeed in the workplace. You can meet with career coaches to explore career options based on your interests and abilities, leading to the creation of a focused career search plan. They will also help you write great resumes, show you how to build your professional network, practice your interviewing skills, and research employers and organizations.
Connecting with Dyson Alumni: An Invaluable Resource and Training Corps
Dyson alumni provide unparalleled support for students' professional development and employment. The Dyson Undergraduate Program Advisory Council includes members who care deeply about enhancing the employment success of Dyson majors. The group hosts an annual Sophomore Networking Dinner early in the fall semester to meet individual students. Every week, alumni come to campus to engage in classroom learning opportunities, and frequently meet with students to discuss career opportunities. And hundreds of alumni have signed up to connect with you for career conversations, mock interviews, and resume critiques via our online CALS Alumni Advisor Network.
Career Guidance for Dyson School Alumni
Dyson School alumni who have graduated within the past five years can continue to use the services provided by the Cornell SC Johnson College of Business Undergraduate and Master's Programs Career Management Center. To review jobs posted specifically for CALS + Dyson alumni or to post a job for CALS + Dyson alumni, visit the alumni job postings. Alumni can also meet with a career counselor or advisor by phone or in person, and attend career-related workshops.
Cornell SC Johnson College of Business Undergraduate and Graduate Career Management Center
Dyson students have the benefit of working with a group of professionals who make up the Cornell SC Johnson College of Business Undergraduate and Graduate Career Management Center. These individuals bring years of experience in the field of career development and professional development, which benefits the eclectic interests of Dyson students.
For detailed information about the services offered by the center, reach out to the team:
Career Management@Dyson
Warren Hall B65
Phone: 607.255.8373
careers@business.cornell.edu
Brittany Sutton '15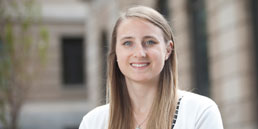 Hometown
Suffield, Connecticut
What Makes Dyson Special?
Unlike other business programs, Dyson is extremely collaborative and you will always find people to work with and help you out. We are still competitive with each other because we want to all do well, however we also all support each other to get the best grades we each can.