Research Bulletins
Research bulletins (RB) are comprehensive research reports intended for professional peers. These bulletins represent completed work that is too long, too timely, or too applied for an academic journal. They must undergo at least two reviews prior to publication.
All newly created PDFs on this website are accessible, for an accommodation for these PDFs please contact SC Johnson College Accessibility Team
Wayne Knoblauch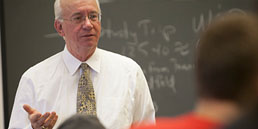 Professor of Farm Business Management and Economic Analysis
"Remember, you can't manage what you can't measure, but if you can measure it you can improve it!"