Meet Jinhua Zhao, New Dean of the Dyson School
"The momentum, potential, and trajectory of growth of Dyson are incredible. I'm immensely excited to be a part of it."
Meet Jinhua Zhao.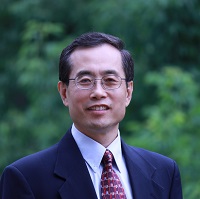 Zhao joined Cornell on July 1, 2021, as the David J. Nolan Dean of the Charles H. Dyson School of Applied Economics and Management. Previously, Zhao was a professor of economics at Michigan State University. Zhao was also director of Michigan's Environmental Science and Policy Program, 2010–18.
"I worked with individuals within and across both departments [Department of Economics, and the Department of Agricultural, Food and Resource Economics] at Michigan State University in a collaborative environment. Dyson, as a close-knit community, is also highly collaborative. Moreover, we are seeing increasing collaboration in research, teaching, and services across the three schools in the SC Johnson College of Business."
Moving from Michigan State to Dyson, Zhao is excited to build upon the community and benefits of the Dyson School and the connection to the College of Agriculture and Life Sciences (CALS) as dean.
"Dyson's unique institutional setting provides our students with exposure to 21st-century problems and the capacity to address them. For example, Dyson's Grand Challenges program inspires and empowers our students to use their business skills to make a difference. Our ties to CALS are going to become even stronger, given where we want to go in shaping business education."
The connections between Dyson and the other schools in the SC Johnson College of Business mirrors the connection and collaboration that Zhao wants to foster among students, alumni, faculty, and staff at Dyson. He wants to work together so that everyone—students and other Dyson community members—succeeds.
"I'm a strong believer in collective excellence: When we come together and collaborate, each of our unique perspectives will become assets. I also believe in transparency, not only for efficient information flow but also for serving as a mechanism to bring people together. Through transparency, we can bridge differences to bring about greater value."
Zhao and his family have moved to Ithaca and are settling into the area as he looks toward the future of the school.
"The more I learn about Dyson, about the SC Johnson College [of Business] and CALS, and about Cornell, the more confident I am about Dyson's future."
Learn More about Jinhua Zhao