NACS Executive Leadership Program
July 28-August 1, 2024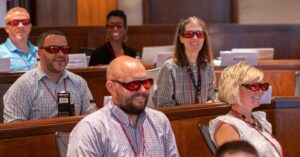 The NACS Executive Leadership Program at Cornell University provides executives in the convenience store industry with the perspectives needed to understand and successfully respond to the challenges of a competitive marketplace.
For individuals preparing to take on key leadership roles in retail companies, the program supplements experience with formalized instruction on skills needed to drive long-term organizational performance, as well as 360-degree feedback and 1-on-1 coaching.
The Executive Leadership Program provides opportunities to:
Refine leadership skills that enable companies to drive long-term financial performance
Prepare for the demands of key company roles
Learn from exceptional faculty and a network of high-performing peers
Who Should Attend
This program is designed for high-potential executives who have been identified by their companies for expanded leadership responsibilities.
Instructors
Dan Hooker
Director of Executive Education, Food Industry Management Program
Cornell University
Michael Hostetler
Director of Leadership Studies
Cornell University, Johnson Graduate School of Management
Admission Details

For tuition information and registration:
National Association of Convenience Stores
1600 Duke Street
Alexandria, VA 22314
Brandi Mauro
Phone: 703-518-7223
Email: bmauro@convenience.org
Web: www.convenience.org
Past Participating Companies
1st Stop
Alimentation Couche-Tard
Applegreen
Balmar
Cadena Comercial OXXO
Cameron Park Petroleum
Circle K
C.N. Brown
CrownCen Marketing
Cumberland Farms
DB Marketing
Energy North Group
Erickson Oil Products
Evans Group
Express Mart
Exxon Mobil
E-Z Mart
Frito-Lay
Garb-Ko
Go America
Hess
Huck's
Ipiranga Produtos de Petroleo
J. Wade Quinn
Jackpot
Kroger
Kum & Go, L.C.
Kwik Trip
Lard Oil
Loaf 'N Jug
Mega Saver
Mac's
Miller Oil
Nice N Easy
Northern Tier Energy
Parsons Oil Co.
PepsiCo
Petro-Canada
Philippine Seven Corp
Pilot Travel Centers
Pit Stop
Pump N Pantry
Quaker Oats
QuikTrip
RAI Trade Marketing Services
RaceTrac Petroleum
Radiant Food Stores
Reitan Convenience Denmark
Robinson Oil
Royal Buying Group
Rutter's
Sheetz
Shell
Shipley Stores
Sonbyrne Sales
Southwest Convenience Stores
SPAR
Speedee Mart
Speedway SuperAmerica
Statoil
Sterling Stores
Strasburger Enterprises
Stripes
Sunoco
Tedeschi Food Shops
The Spinx Co.
Tom Thumb
Town & Country Food Stores
Tri-Star Marketing
Village Oil
Village Pantry
Vintners Distributors
Wallis Companies
Wawa
Wayne Oil Co.
WESCO
Weigel's Stores, Inc.
West Star
Worsley
Zooms
Contact Us
Food Industry Management Program
475 Warren Hall
Cornell University
Ithaca, NY 14853-7801
FIMP@cornell.edu