Food Executive Program
July 12, 2020

-

July 17, 2020
Overview
The Cornell Food Executive Program is designed to develop the skills of current and future leaders in the food and consumer products industries. Participants interact with world-class instructors on a wide variety of retail industry issues that impact the profitability of all types of food industry firms. Attendees learn through group projects and simulations with other executives from leading companies from around the world.
Featuring
Strategic Imperatives in the Food Industry: Bryan Gildenberg, Chief Knowledge Officer of Kantar Retail, scans the horizon and provides his unique data-driven insight on the evolving retail landscape.
Strategic Sleep for Top Performance: Ana Krieger, Associate Professor of Clinical Medicine, gives an interactive presentation on identifying strategies to enhance sleep and optimize performance on a regular basis.
The New Dynamics of Private Label: Dan Hooker, a global retail and CPG executive, explores how high quality private label goods are transforming the shopping trip from a CPG led product – first model to an experience that is more closely linked to differentiation and the overall store.
Leading at a Higher Level: Ken Blanchard, best-selling author of The One Minute Manager, gives a spellbinding presentation on the fundamental truths and principles behind "raving fan" customer service and encourages you to take a leadership role for customer advocacy within your organization.
Supermarket Simulation: Led by Bill Drake and Rod Hawkes, teams compete by operating a retail food company in a computerized simulation of a very dynamic and competitive market. Decisions are made regarding promotional strategy, pricing, labor, procurement, inventory, and capital expenditures.
Who Should Attend
This challenging program is targeted toward middle- and upper-level executives, including those soon to be promoted into general management positions. Food and CPG retailers, wholesalers, manufacturers, marketers, and service providers from around the world send their current and future leaders. Participants network with business partners throughout the industry and leave Cornell with new ideas, new perspectives, and new friends.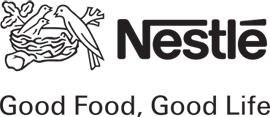 Generous support from Nestlé sponsors retailer scholarships and curriculum enrichment.
Our Contact Information
Cornell Food Executive Program
475 Warren Hall
Cornell University
Ithaca, NY 14853-7801
Email:food-exec-program@business.cornell.edu
Phone: 607-255-1167
Fax: 607-255-4776