Student Services and Advising
The Dyson Office of Student Services serves as the main point of contact for Dyson undergraduate students and provides a full range of support services, resources, and referrals. Our team works in conjunction with the Cornell SC Johnson College of Business Undergraduate and Master's Programs Career Management Center, the College of Agriculture and Life Sciences, and Dyson faculty to support Dyson students throughout their academic journey at Cornell.
Advising in the Dyson School
The Dyson School offers students a unique opportunity to work with both faculty and professional academic advisors throughout their time at Cornell. The goal is to help students in developing their personal success network that they will continue to expand as they build connections with other faculty, staff, and alumni. It is vital for students to develop meaningful relationships with both their faculty advisor and academic advisor.
Academic Advisors
We believe that academic advising is an intentional and developmental process in which students and advisors work together to help students succeed at Cornell. Ultimately, students are responsible for the decisions they make and how they affect their educational experience.
The Dyson Office of Student Services Advising Team strives to:
Engage with students in an intentional and developmental process to assist them in clarifying and realizing their educational and personal goals.
Educate students about requirements, expectations, and support resources within Dyson, the SC Johnson College of Business, the College of Agriculture and Life Sciences, across campus and beyond.
Provide a safe and non-judgmental space to discuss concerns and interests.
Academic advisors from the Office of Student Services can assist a student in short- and long-term course planning, verification of degree requirements, provide connections to on-campus academic and wellness support services, and general support.
Students interested in participating in a global experience such as a course-based study trip, study abroad, Dyson Global Fellows summer program, or domestically through the Cornell in Washington program should contact their Office of Student Services academic advisor to start the conversation. Appointments with Dyson academic advisors can be scheduled through Launchpad.
How to Connect with your Academic Advisor.
STEP 1:
Determine if you need to make an appointment or visit drop-in hours. Appointments are for long conversations about your academic progress, course planning, academic or personal concerns. Drop-ins should be focused on quick questions and should not take more than 5-10 minutes. If you determine that a Drop-in time is the best option, visit the Dyson Launchpad under "Connect w/ an Academic Advisor"
STEP 2:
Schedule an appointment with the advisor who corresponds with your last name. All appointments are Eastern Standard Time (EST).
Faculty Advisors
Faculty advisors can help students understand the various concentrations available, course selection in relation to future careers, letters of recommendation, working with other faculty, research, and discussions about graduate school. It is important for students to work with their faculty advisor as a mentor within Dyson. Students should reach out to their faculty advisors directly to make an appointment or discover their office hours.
Dyson Launchpad
Dyson Launchpad is the go-to site for Dyson and Cornell resources, appointment scheduler for Student Services and Career Management, policies, study abroad, funding opportunities, student organizations, and a list of upcoming events. Students can visit the site on their phones and save the page to their home screen to have quick access.
Contact, Hours, and Further Information
B34 Warren Hall
Dyson_OSS@cornell.edu
Drop-in hours are posted on the Dyson Launchpad under "Connect w/ an Academic Advisor"

While the Student Services advisors should be the primary connection for Dyson student's major requirements, policies, and courses, there are many other university resources available for students.  See below for a list of key resources. Additional resources can be found on the Dyson Launchpad.
Helpful Links
Who Should I Contact?
The Dyson Office of Student Services is unable to meet with non-Dyson students. Refer to the information below about how to best have your Dyson questions answered.
Current Cornell non-Dyson students wishing to learn more about the transfer process should refer to Internal Transfer and attend an information session.
Jenna Roland '18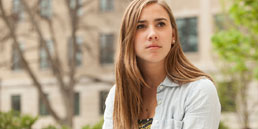 Hometown
Newtown Square, PA
Concentrations
Finance, Strategy
What Makes Dyson Special?
The collaborative atmosphere among students encouraged by class projects, extracurricular organizations, or simply studying in groups.