Distribution Requirements
In addition to the AEM core and concentration requirements, all AEM majors must also meet the following distribution requirements from the College of Agriculture and Life Sciences. Because of the uniqueness of the Dyson School of Applied Economics and Management being part of two colleges, it is important that students work with the Dyson Office of Student Services to understand all policies, procedures and degree requirements.
Physical Sciences Requirements
Minimum 18 credits
Social Sciences and Humanities Requirements
Minimum 12 credits
Economics requirements: required by AEM; consists of at least 2 economics courses in the Social and Behavioral Analysis category (SBA), 6 credits minimum
Human Diversity (D): one course of 3 or more credits
One course of 3 or more credits from any of the following categories:

Cultural Analysis (CA)
Foreign Language (FL)
Historical Analysis (HA)
Knowledge, Cognition and Moral Reasoning (KCM)
Literature and the Arts (LA)
Written and Oral Expression Requirements
Minimum 9 credits
Written Expression: minimum 6 credits; e.g.,

One course will be a First-Year Writing Seminar (FWS) or credit by AP and the second written expression will be the Grand Challenges Writing Course.

AEM 2700: Management Communication
Grace Zhao '18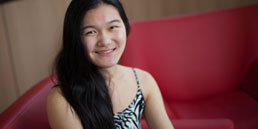 Hometown
Hauppauge, New York
What Makes Dyson Special?
The size of the business program is small and class sizes are small, so this makes for a very individualized learning experience. It also allows students to know most of the students in their class year.