Honors Research Program
Overview
The Honors Research Program in the social sciences program area provides students with a special opportunity to work with a faculty mentor to experience the research process. Successful completion requires a thesis written in the style of a master's thesis or scholarly journal article.
The bachelor of science degree with "distinction in research" is conferred upon students who, in addition to having completed the requirements for the B.S. degree, have satisfactorily completed the honors program and have been recommended for the degree by the honors committee.
Students are encouraged to contact Prof. Nancy Chau, the Dyson School's honors research coordinator, if they have any questions concerning the CALS undergraduate Honors Research Program.
Application and Proposal Process
Students must submit one hard copy of the completed application and their proposal to the social science program area faculty committee chair two semesters before their expected graduation date. Late applications will not be considered. Please see the Social Sciences Honors Research webpage for upcoming deadlines and details on the application and proposal process.
Final Submission Guidelines
Honors theses should be written according to the form of any standard journal within the appropriate field. Distinction in research is awarded upon approval of the research honors thesis by the committee. The committee recommends the submission of the thesis draft to the research advisor two months before graduation to permit sufficient time for revision. Completed theses are due approximately one month before graduation.
Please see the Social Sciences Honors Research webpage for submission guidelines and approval deadlines.
Recent Honors Theses by Dyson School Undergraduates
Nancy Chau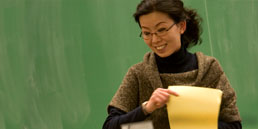 ​International Professor of Applied Economics and Management
"To be a part of the Dyson School is to surround yourself daily with students, professors, and staff who, through research, learning, and practice, have all committed themselves to get actively involved with some of the most pressing global issues facing governments, businesses, organizations, and societies."
Laura Johnson '10
Thesis Title: Understanding and Overcoming Agribusiness' Perceived Barriers to GM Technology Donations to Developing Countries
"The most rewarding part of doing the thesis was having something high quality and tangible to show for my time in AEM. It has served as a great document to attach to emails along with a resume when emailing someone regarding jobs or other professional communications. I'm currently working for Syngenta Foundation, headquartered in Basel, Switzerland. The project I'm currently work on, related to agricultural biotechnology stewardship in 6 African countries, is a direct result of the research I did for my honors thesis. I interned with the foundation the summer before my last semester at Cornell and the executive director took a particular interest in my thesis research and help to set up interviews with key people at Syngenta. Upon graduating I went to work for them and I have been given projects that are a natural extension of my thesis research and draw on the unique insights, understanding, and connections that were established through doing the honors thesis research."
Scott Grandt '08
Thesis Title: In-Field Spatial Variability of Soil Test Phosphorus and Implications for Agronomic and Environmental Phosphorus Management
"Completing undergraduate research requires a substantial amount of time and helped me become more disciplined with my time management. Additionally, the program requires you to set your own goals and learn how to be self-motivated to complete them. In writing a manuscript, you have to learn how to take a topic you know very well and distill it to a clear and concise argument. These skills translate well to any sort of work environment and have helped me to be more successful in my career."