Dyson Leadership Fellows
Change yourself. Change the world.
The Dyson Leadership Fellows program is designed for those students dedicated to continuing their leadership journey through participation in exclusive co-curricular opportunities. The main purpose is to develop students who are equipped, inspired, and empowered to exemplify Our Business is a Better World and to grow the Fellowship creating an inclusive cross university community of leadership students. This includes community based projects and engagement.
Students in the university leadership minor or the business minor are eligible to apply to the Dyson Leadership Fellows program when they reach the midpoint of the minor. This indicates a student has completed the foundational aspects of the minor and is serious about further growth.  In many cases, students applying to become a Fellow have already met some of the requirements. (Any student in good standing may declare and will be immediately accepted to the university leadership minor)
Fellows are selected and invited to join if they exhibit outstanding academic performance, have made leadership contributions to courses that are considered prestigious by faculty, embody leadership potential, strive for personal growth and have already embarked on a leadership role in a personal or educational setting.   The selection process includes a written application and interview.
Benefits of Membership
Build strong and lasting relationships with other fellows, faculty and alumni
Connect with communities
Be an integral part of undergraduate leadership activities
Learn to be comfortable receiving feedback through coaching and mentoring
Hone in on careers and companies where you can live the leadership life
Dyson Fellowship member Jacket and Graduation Cord
 Leadership Fellows Requirements
As a participant in Dyson Leadership Fellows, you will embark on a journey through knowing, doing, and being throughout your Cornell experience.
Applicants must have completed at least 50% of minor requirements.
GPA 3.3 or better
Participate in a one credit leadership immersion course (AEM1700) as soon as accepted. There are no substitutes for this course.
Attend Workshops (6 total) examples:
MAP the Challenge Case Competition (participate at least once)
Dean Speaker Series (attend at least 2)
Service (volunteer at least 2 times)- Help with Leadership by Design's annual Leadership Week
Other Opportunities to Learn as you Lead

Be paired with an Leadership Alumni Mentor
TA LEADERSHIP PROGRAM
ENGAGED Cornell – Ambassador
Cornell Team & Leadership Center/Campus and Community Engagement

Exemplify Leadership by Design principles as a student at Cornell
Mentor a student new to the Leadership Minor
Add a Fellowship reflection to ePortfolio
The fellowship requirements listed above are designed to expose students to learning and reflection, co-curricular and service experiences, workshops, speakers, and other events. Some of these components are required, while others are offered exclusively to Leadership Fellows as a program benefit.
Exclusive Opportunities
Leadership Lecture Series – inspiring guest speakers – priority guest list, seating, small gatherings
Leadership Week – priority access to activities and volunteer opportunities
Leader in Residence – exclusive meetings, meals, and activities
Topics in Leadership (conversations & a meal with Director)
Case Competitions – Map the Challenge priority entry (space is limited)
"I really think that the Leadership Program was a very defining experience through my freshman year, and I'm very grateful to have been along for the ride."

Denise Castle '22, Dyson Leadership Fellow and Dean's Assistant
What will you gain as a Dyson Leadership Fellow?
You'll be equipped, inspired, and empowered to exemplify Our Business is a Better World.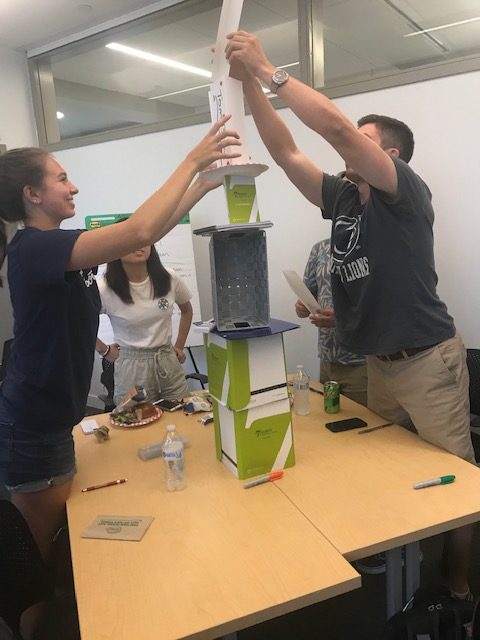 Co-created by students, faculty, and alumni to provide a comprehensive approach to leadership, Dyson Leadership Fellows is a multifaceted program that combines curricular, co-curricular, and experiential learning to build strong leadership skills.
Application, experience, and reflection.
We consider this program a leadership learning laboratory where you can learn, practice, reflect and hone your leadership skills, personal values, and business experience.
"We do not learn from experience… we learn from reflecting on experience." – John Dewey, Philosopher
Apply to become a Dyson Leadership Fellow
Applications are only reviewed and accepted from March 1 through May 1 each year.
To begin the Dyson Leadership Fellows application process, click on apply now, and submit the form to Donna Haeger. After your application is received, you will be contacted for an interview as the next step in the process.
Applicants must complete at least 50% of minor requirements, and have a minimum GPA of 3.3 to apply for Fellowship status.
Questions? Contact us:
Donna Haeger, PhD
Faculty Director of Leadership Development
Professor of Practice
340G Warren Hall
607.255.2736
dlh266@cornell.edu