At Dyson, learning is a way of leading.
One of Dyson's priorities is that every student has a meaningful touchpoint to leadership; learning and understanding what leadership means to them personally, understanding how society can benefit from exceptional leadership and to develop the tools to intentionally become the leader they wish to be as they embrace the world and all it has to offer.
Leadership by Design provides a rich, varied, curricular, and co-curricular experience to cultivate the capacity students have to lead in communities on a local, national, and global scale. Connecting with communities allows students to experience leadership in action.
Leadership by Design cultivates an understanding of self and others by focusing on blending human systems through interaction, teamwork, and team leadership.
Leadership by Design is a systems-based approach that is an appreciative, holistic experience allowing students to explore self, others, teams, and communities.
The basic premise of Leadership by Design is leading for a better world. This is accomplished by interacting successfully for high impact engagement and positive change.
"Leadership is about impact, influence, and inspiration. More specifically, a leader is one who builds community and inspires it toward a common purpose that benefits the collective, beyond the individual." Amishi Nayar '22
Building the foundation for leadership
When students arrive at Cornell as freshmen, they have already had multiple leadership experiences, including athletic participation, student government and clubs, part-time jobs, and community service to name just a few.  Through Dyson's Leadership by Design program, students will have the opportunity to reflect upon, and learn from, their experiences.  The program also provides a variety of leadership assessment tools with curricular and co-curricular opportunities, so that students may start to see the interconnections between experiences, behaviors, competencies, and skills, within the art of leadership.
Why participate in the Dyson's leadership programming?
Pairing leadership and learning offers to integrate core human-centered behaviors, skills, and competencies which are foundational for anyone in a leadership position. The Dyson Leadership by Design model is based on the research of Komives, Susan R., et al. (2013), knowing, doing, being, and Preskill and Brookfield (2009) on learning as a way of leading through educating, exploring, equipping and empowering student leaders.   As students move through the program, behaviors, and values as well as skills and competencies are introduced and discovered, built and fortified.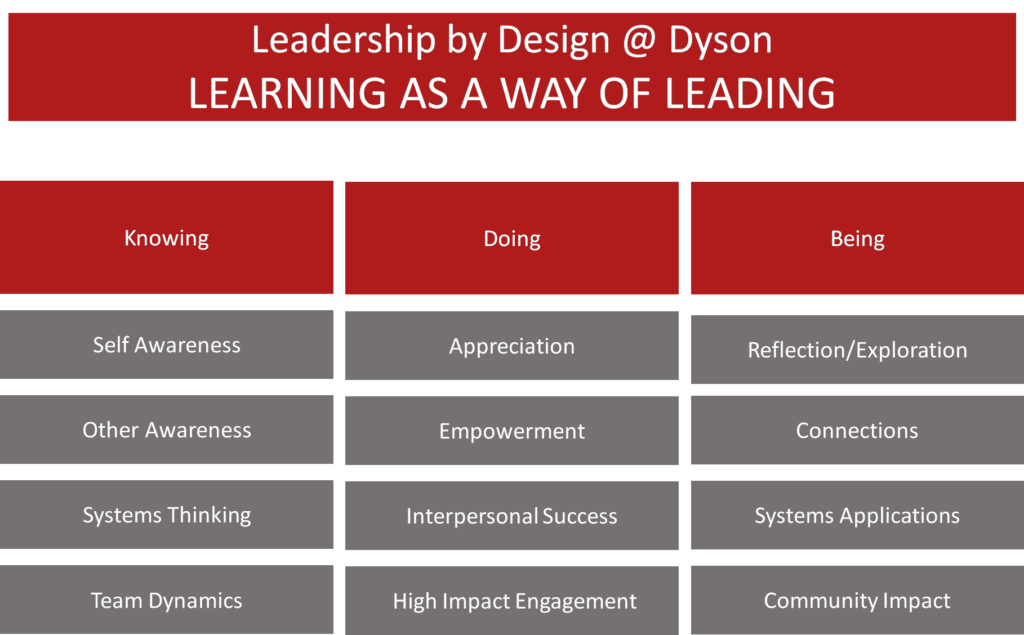 There are so many leadership opportunities in Dyson, including group projects, clubs, TA positions, student jobs, internships, the university leadership minor and the Dyson leadership fellows program. All of these opportunities serve as a natural environment for continual practice and refinement of behaviors, values, competencies and skills that allow students to become collegial and considerate Dyson citizens.
Students will leave Dyson understanding the systems approach to leadership, having had the opportunity to practice, integrate, refine and apply leadership learning. They will develop a strong basis of leadership through an understanding of self, others, interaction dynamics, teams and communities. They will understand what it means to lead in teams from a design perspective which supports both internal team dynamics, and teams that impact results within the larger system of an organization.  In this way, students become the leaders they aspire to be.
The Learning Intentions of Dyson's Leadership Model include both interpersonal and task focused elements which provides a holistic systems based immersion students can live fully during their college experience. The Learning Goals track to AACSB requirements.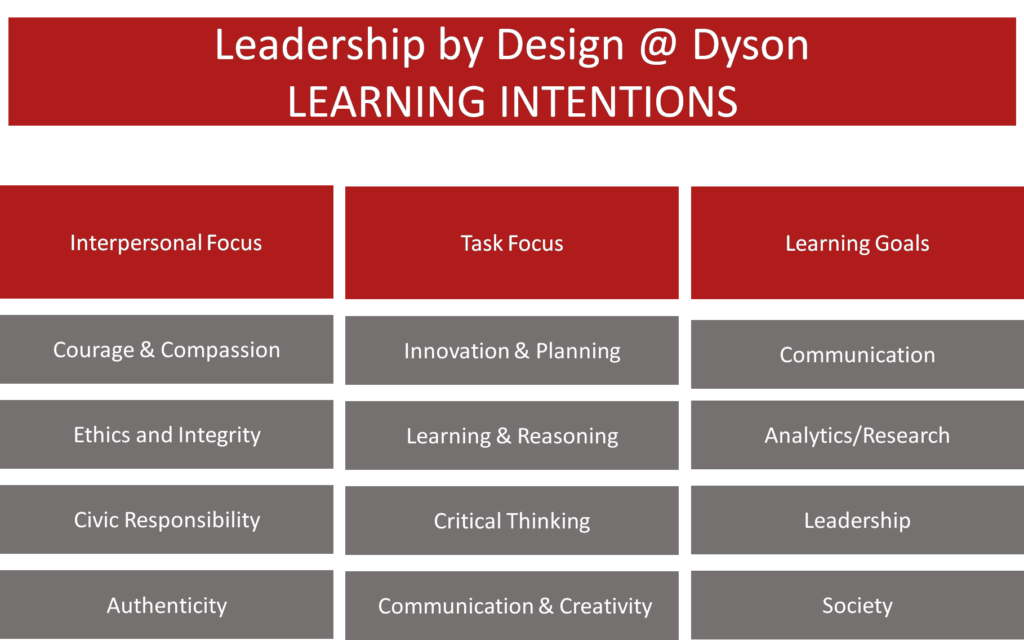 You'll learn how to:
Understand, value, and lead yourself.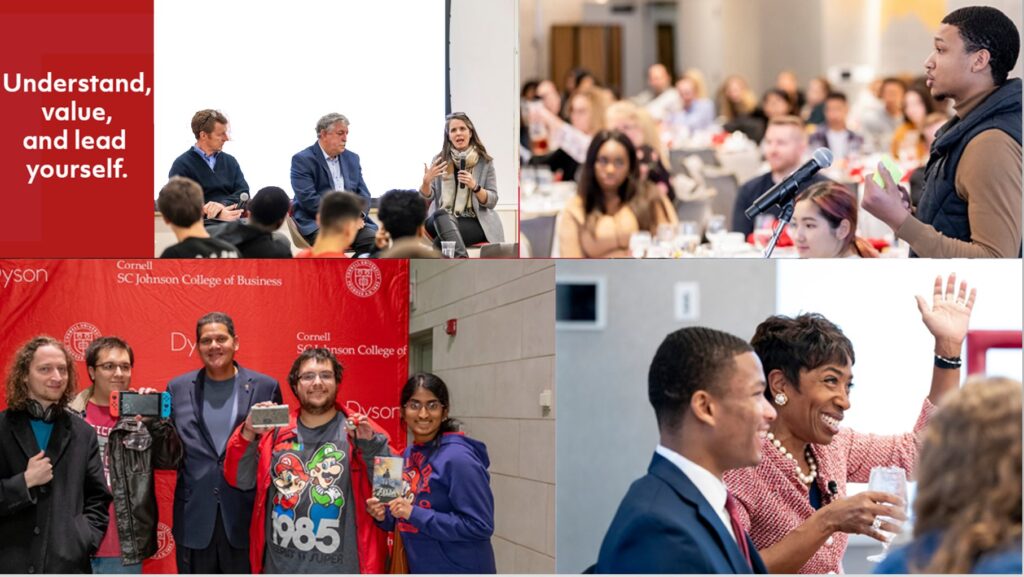 Appreciate and value differences.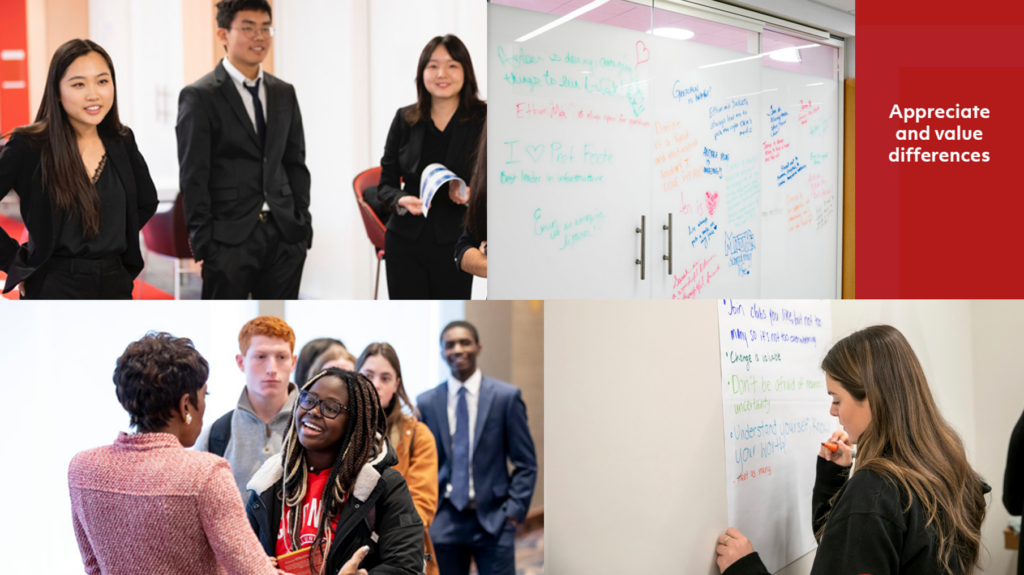 Make connections with system thinking.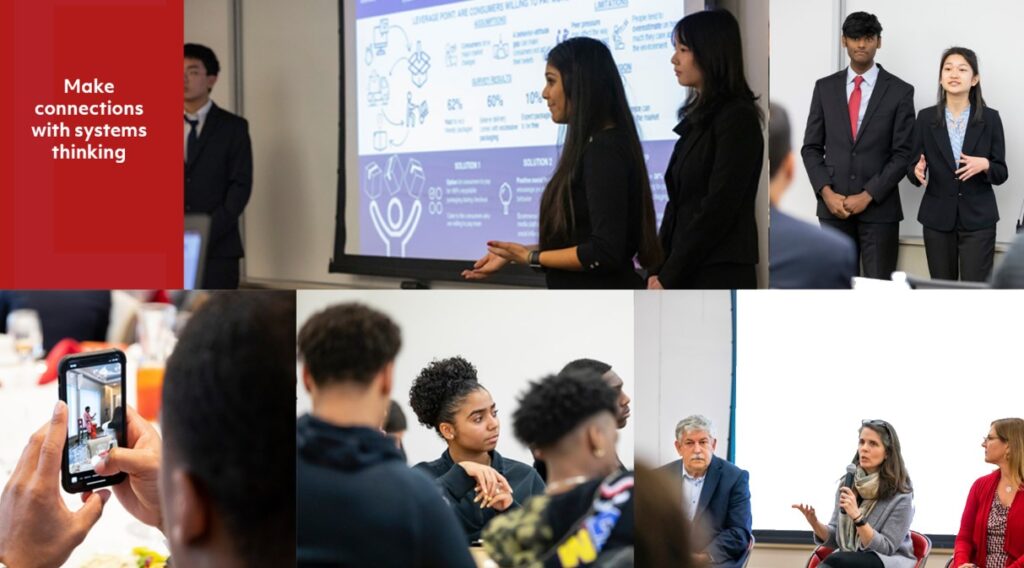 Lead teams and lead others.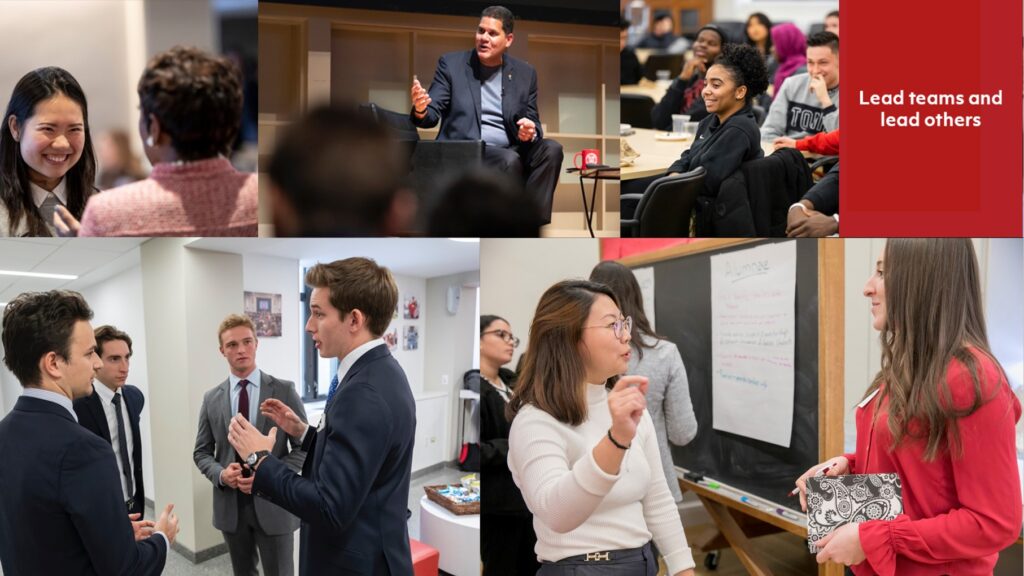 I realize that the Coronavirus' disruption of our team planning experience tested our adaptability. Using design-thinking we re-framed the goal of the project from completing a team project in the community to serving the community as a team.

Camden Wiseman '23
Leadership Opportunities and Annual Events
Dyson Leadership by Design and the Cornell Leadership Minor provides engaging opportunities for all students at Cornell to meet with speakers, including our Leaders in Residence, as well as Dyson's annual Leadership Week and Map the Challenge case competition.
Leadership Week
Leadership by Design hosts Leadership Week, an engaging and energetic week of activities focused on leadership topics, each spring semester. All are welcome!
Upcoming 2021 Leadership Week Activities, April 5-9
Kick-off Leadership Lecture Series
Interactive activities throughout the week
2nd Annual TRIAD: Women in Business, Analytics, and Leadership Summit
2nd Annual MAP the Challenge – Cornell-wide
FOCUSED Student Forum
Leadership Faculty Panel – Faculty across Cornell talk Leadership
Leadership Alumni Panel
Dyson Map the Challenge

Leadership by Design hosts a university-wide competition each year, in the spring. Emphasizing UN sustainable goals and using a systems approach students team up into groups of four. Teams choose a topic they are passionate about, research it, understand the history, the stakeholders, evaluate the pros and cons, and propose solutions. Teams map issues out as a system and share it with a research brief through presentations to a panel of judges. This experience also provides students the opportunity to win cash prizes.
Cornell University Leadership Minor

This campus-wide, undergraduate minor in leadership, administered by Dyson and CALS, requires 11 to 15 credits and a capstone project that shows leading as a way of learning through knowledge, application, experience, and reflection.
Dyson Leadership Fellows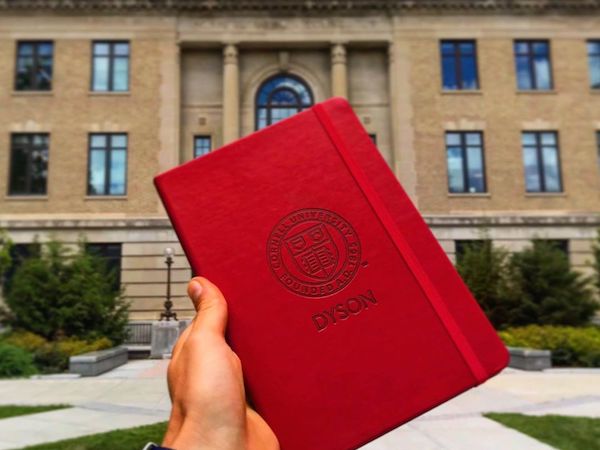 The Dyson Leadership Fellows program is designed for those students dedicated to continuing their leadership journey through participation in exclusive co-curricular opportunities. Leadership Minors are eligible to apply to the Fellows program when they begin the first leadership elective in Tier III.
"It was a welcoming community where I found some of my best Dyson friends. We all found that we had similar interests and we were able to connect over our future goals, as well as form a tight group of friends. I'm excited to welcome new members into our community and continue the Leadership Fellows journey!"

Emma Moulton '21, Dyson Leadership Fellow
What's next?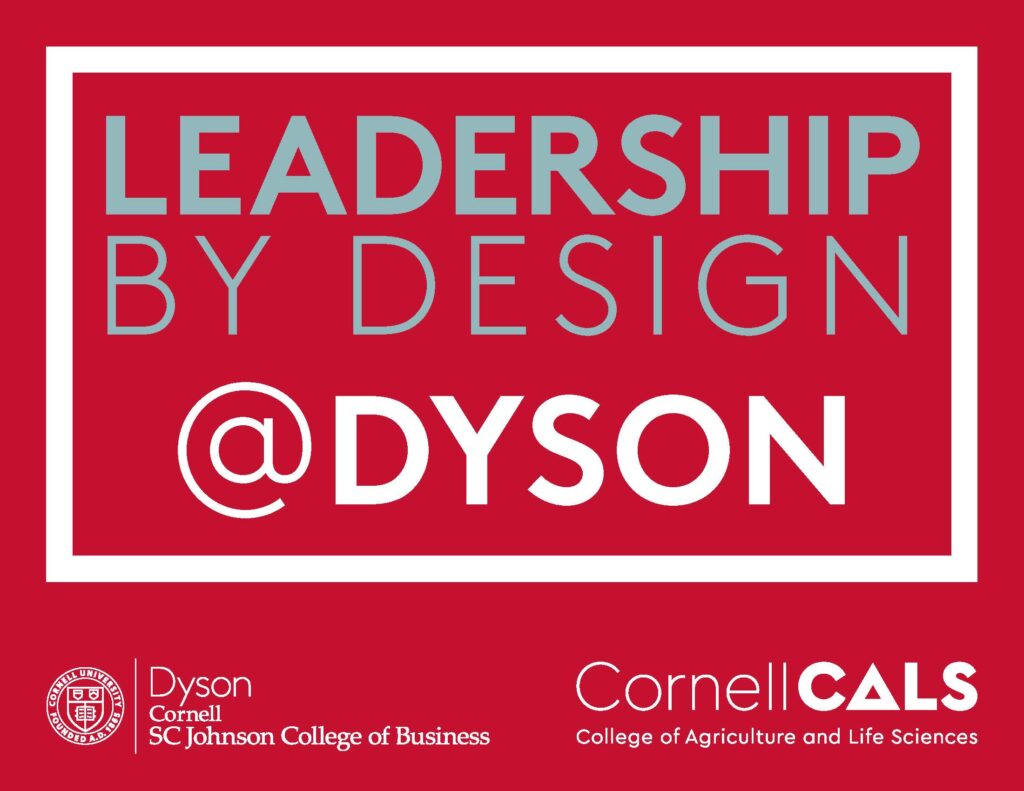 Once you've explored our programs, get involved! Whether you apply to become a Dyson Leadership Minor or attend a few events throughout your time at Cornell, it's always a good choice to strengthen and develop your leadership skills—and we're here to help.
Questions? Contact us:
Donna Haeger, PhD
Faculty Director of Leadership Development
Professor of Practice
340G Warren Hall
607.255.2736
dlh266@cornell.edu