International Opportunities
Prepare for the Global Marketplace
Even if you want to work domestically after graduation, most businesses work across borders and continents by operating overseas offices, serving an international customer base, or working with technology developed in another country.
As a result, employers value job candidates who have international exposure and the skills to communicate across cultures. A significant international experience cannot only give you the valuable opportunity to engage in other cultures and gain new perspectives, it can also provide an edge when job searching.
From short-term, faculty-led study trips to a semester or year studying abroad, you can experience a wide variety of options to build on the Dyson School's highly regarded undergraduate curriculum that takes an international approach to business and applied economics.
My company is engaged in extensive business partnerships in Asia and, as such, we look for graduates that not only have a strong understanding of the international business environment but who are also sensitive to cultural and political issues. The CALS Exchange Program would help tremendously by encouraging students to access opportunities where they can immerse themselves in a different culture.

Daniel Goldman '87, President & CFO, GreatPoint Energy, Inc.
Semester and Year-Long Credit-Bearing Programs
Academic Year or Semester Long Opportunities
There are two approved avenues for studying abroad during the Fall, Spring, or the full Academic Year: Cornell's Office of Global Learning or the CALS/Dyson Exchange Program.
Rest assured that studying abroad is more affordable than you might think. In fact, in some cases, studying abroad can cost less than staying in Ithaca for a semester. And even more good news. If you have financial aid and scholarships, your financial aid package is adjusted based on the estimated costs of living abroad, and it travels with you.
Special Programs and Opportunities
You are not interested in leaving the Cornell campus for a full semester but you still want to internationalize your degree? Besides the study abroad and exchange opportunities, you can also consider doing a summer internship abroad or enrolling in a class with an abroad component.
The CALS/Dyson Global Fellows Program supports Dyson undergraduate students from any concentration to pursue professionally-focused summer internships. Acceptance to the program is highly competitive and a limited number of students are selected each year. Fellows receive professional development, logistical, and financial support.
For all on- and off-campus global opportunities be sure to filter your search by "SC Johnson Business – Dyson" to see all Dyson-approved programs! You will also find opportunities for career development, community-engaged learning and service, fellowships and funding, research, and other special interest programs.
"The global economy is real. As a retired partner with the global accounting firm Ernst & Young, I experienced time and again the value of having international experiences, including study and work. The future will find the world's economies and cultures more linked than ever before."

Jerry Goldman AB '72, Partner (retired), Ernst & Young LLP
Internships, Service Learning, and Volunteering Abroad
Semester-long study abroad and exchange opportunities generally include an academic component (e.g., combining 4 credits of internship experience with 12 credits of related coursework). Currently, CALS does not offer any semester-long internship-only options. If you would like to spend a fall or spring semester abroad participating in a full-time internship, you will need to take an academic leave of absence. Please note that you will not be able to transfer credits taken abroad during a leave of absence.
Visit the CALS International Opportunities site for links where you can search for international internship, service learning, and volunteer opportunities.
Dyson's Global Curriculum
Dyson School faculty are respected scholars of economies around the globe and especially in the emerging markets of Africa, India, China, Eastern Europe, and South America. Indeed, students traveling to India and China soon learn that Cornell has an extremely strong reputation in those countries. Dyson course titles such as Research and Strategy in Emerging Markets and the Political Economy of the WTO reflect our faculty's expertise.
The Dyson School's undergraduate curriculum includes a concentration in international trade and development, and all AEM concentrations include a global component. We also offer an Intercultural and International Management Certificate Program.
Dyson School International Study Trips
The Food Marketing Fellows Program includes an international study trip during winter break, recently to China, Switzerland, and Brazil. Students can also enroll in AEM 3290: International Agribusiness Study Trip to gain a global perspective on agribusiness management, with recent trips to England, Israel, and New Zealand. AEM 3600 & 3601: Global Business Trip: South Africa offers an international learning experience focused on business in South Africa, a crucial emerging market. To apply for this opportunity, please complete the Qualtrics survey.
CALS International Programs
CALS remains a leader in international development programs, with particularly strong programs in Southeast Asia, South Asia, China, and southern Africa, where a majority of the world's peoples live. These programs have a strong rural/agricultural base and they involve multiple components such as nutrition, health care, family planning, and communication. Indeed, about half of the MS and PhD students in the Dyson School's graduate program are involved in international development issues. This expertise provides a rich resource for undergraduates.
Interested students should investigate opportunities with International Programs in CALS (IP/CALS), which includes an undergraduate major and minor in International Agriculture and Rural Development (IARD). Dyson students can enroll in IARD courses, including IARD 6010: Experience Latin America II, which features a two-week field trip to Mexico in early June, and IARD 6020: International Agriculture in Developing Nations, which includes a field trip to India during winter intersession. Other international field trip and study opportunities exist through IP/CALS, as well.
Another CALS multidisciplinary program, the Cornell International Institute for Food, Agriculture, and Development (CIIFAD), offers the Student Multidisciplinary Applied Research Team (SMART) Program. SMART brings together teams of students and faculty from diverse disciplines and pairs them with firms, organizations, or community groups located in developing countries.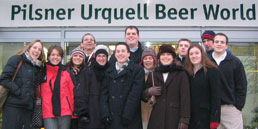 The Food Marketing Fellows enjoy a visit to Pilsner Urquell during their international study trip to the Czech Republic.