Double Major
Students with another major in the College of Agriculture and Life Sciences (CALS) may apply to double major in Applied Economics and Management (AEM). Double majors must meet all of the graduation requirements for both majors.
A student who has transferred to Cornell University from another university or college is not eligible to double major in AEM.
Requests to double major in AEM are accepted from qualified Cornell students at the end of spring semester of freshman or sophomore year only. Current juniors and seniors are not eligible to apply to double major in AEM.
Minimum Requirements
Cornell GPA of at least 2.75 (this is a minimum; an over-3.3 GPA is more competitive)
Applicants should maintain a full-time (12-credit minimum) schedule and be in good standing in their current major
Successful completion of ECON 1110; ECON 1120 is strongly recommended; AP credit accepted by Cornell fulfills this requirement
Successful completion of one course in calculus; AP credit accepted by Cornell also fulfills this requirement
A grade of "B+" or better in one of the following introductory statistics courses; if you have been awarded AP Statistics credit, you do not need to take a Cornell statistics course
Note: While meeting or exceeding the above criteria will increase your competitiveness, it does not ensure approval to double major in AEM.
If you wish to explore additional courses that will prepare you to double major in AEM, consider taking:
Please note that courses in management, marketing, accounting, and finance that are offered as part of the University Minor in Business do not fulfill AEM major requirements and therefore are not recommended for students intending to double major in AEM.
In addition to coursework, the decision to add AEM as a double major is based on qualitative factors such as work experience, leadership positions, internships, and the student's ability to explain why the AEM major is a good fit for them. Please be aware that not all students who request to add AEM as a double major will be invited into the program.
How to Request AEM as a Double Major
Meet the minimum requirements for admission as a double major.
Complete the Online Supplement Form
The online supplement form gathers information about your background and interest in the AEM major in the Dyson School.
Consider Meeting with an Advisor
If you have questions about adding AEM as a double major, you are encouraged to request a conversation with an advisor in Dyson Student Services by emailing Dyson_OSS@cornell.edu. Please be prepared with specific questions and your intended academic plan.

You will be contacted by email regarding your acceptance into the double major
Note: Requests to add AEM as a double major are considered only at the end of spring semester freshman or sophomore year.
Questions? Please email dyson_admissions@cornell.edu.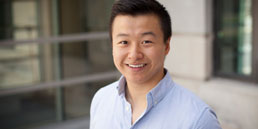 Haoxuan Wang '15
What Makes Dyson Special?
From taking Professor Grossman's Business Law class and TAing Professor Curtis's Finance course, to interacting with my many diverse and motivated colleagues in the Dyson program, I have had an unparalleled academic exposure to an education in finance and have matured greatly as a person and a to-be business professional. I cannot thank the Dyson program enough for its support through the process of when I decided to double major in Biological Sciences and AEM; I definitely could not have made it through without the guiding hand of my professors and the comaraderie of my fellow students.