Internships
Every year of your Dyson experience brings new opportunities to test the waters in your field, expand your professional experience, and create ways to lend your time and passion to local and global organizations. With so many choices, we're here to help you choose wisely to meet your specific goals and live your passion.
Our Goal: Every Student Finds a Fit
From freshman year onward, the CALS Career Development Office (CDO) offers a variety of resources to serve every student. For example, you can search through the CDO's online database of over 500 paid and unpaid, regional, national, and international opportunities. The database includes internship descriptions and contact information, and you can search for opportunities by class year, as well as by geographic location. Links to web-based postings of internships and summer jobs, and Cornell Career Services' online library catalog can help you narrow down the many exciting options. Your faculty advisor can also be an excellent source of job leads.
Don't forget to get individual assistance from a CDO counselor. It's the perfect way to start your internship or summer job search.
Earning Credit for Internships
Because many businesses and organizations offer only nonpaying internships for which a student must earn academic credit, we have established a special one-credit, S/U independent study option. You are not eligible for credit if you are paid.
Please see the Undergraduate Program Coordinator in B60 Warren Hall or refer to the eligibility requirements and internship contract for more information. The deadline for submitting a contract for a summer internship is June 1.
Internship Support Grants for Unpaid Internships
Thanks to the generosity of a number of donors, the Dyson School can provide support to Dyson undergraduates who accept unpaid internships. Grants of up to $2,500 are available for selected students. Students apply for summer, winter, spring, or fall awards.
Eligibility
The applicant must be an active, full-time undergraduate AEM major at the time the application is made.
The internship must be unpaid.
The applicant must meet one of the following eligibility conditions:

A student who is taking an internship with a not-for-profit organization, government agency (executive, legislative, or judicial), or a community service organization, including but not limited to a for-profit hospital, social service agency, or environmental quality/services firm.
A student who has a financial aid package that includes work (including but not limited to federal Work Study) and who has any unpaid internship, including for a for-profit, commercial firm.

Applicants must have an I-9 on file with the University.
Application Process
An application may be obtained here.
The application must be submitted online to gcg4@cornell.edu.
The application form must be completed fully.
The application must include:

A copy of the written offer from the host organization/firm
A copy of the applicant's federal work study eligibility, if applicable
A brief statement explaining your academic and/or career goals and how this internship will help you achieve those goals
A budget for transportation and/or living expenses with an explanation or justification for each item

Applications are due on the following dates, depending on the time of year that the internship occurs:

Summer internships: due first Monday of preceding April
Fall internships: due first Monday of preceding June
Winter or spring internships: due second Monday of preceding November
For additional information or to submit an application, see:
Gretchen Gilbert
Dyson School of Applied Economics and Management
B60A Warren Hall
E-mail: gcg4@cornell.edu
Funding for Agriculture and Food-Related Internships
Special funding is available for internships related to agriculture, food, and horticultural and green crops. The International Food Systems Fellowship helps students gain practical experience applying applied economics and management tools to agriculture and food-related challenges around the world. The Thomas Family Internship Fund encourages students to think outside the box as marketers and consumer product innovators in the area of horticultural or green crops. If you believe you qualify for one of these opportunities, please e-mail: dyson@cornell.edu.
CALS Global Fellows Summer Internship Program
This program has been designed to create opportunities for CALS undergraduate students in pursuit of challenging, professionally-focused summer internships which enhance and complement their career goals and academic progress, while enriching their undergraduate experience with diverse cultural and international immersion.
Andrew Razman '16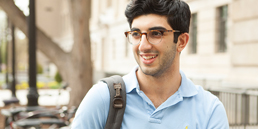 Hometown
Harrison, New York
What Makes Dyson Special?
The collaboration among peers.
Internships & Work Experiences
J.P. Morgan, Longitude Capital, & Wells Fargo Advisors