External Transfer Applicants
Does the Dyson School sound like the place for you? Below, you will find all of the information you need to apply to transfer to the Dyson School.
What We Look For
The Dyson School admissions committee uses a holistic approach when reviewing applications. This means that all parts of your application are considered.
We look for students with high academic achievements in a rigorous curriculum. Our students have leadership and entrepreneurial qualities and take initiative.
We also look for students who share our ethos and vision: at Dyson, our business is a better world.
---
Eligibility
Students who have earned 12 or more credits at another accredited college or university since graduating from high school are eligible to apply as transfer applicants. You are also considered a transfer student if you are enrolled full-time at another institution.
Rising sophomore and rising junior applicants (i.e., those who apply in their freshman or sophomore year) are eligible to transfer. Current juniors and seniors are not eligible for transfer to the Dyson School, but may want to consider one of the one-year Master of Professional Studies (MPS) programs offered in the Cornell SC Johnson College of Business.
Admission Requirements
Transfer applicants must meet (or complete during the semester in which they apply) the following requirements to be considered for admission:
Strong academic record at the college level. In general, successful applicants have at least a 3.5 GPA.
Full-time standing each prior university semester, with few, if any, pass/fail or satisfactory/unsatisfactory-graded courses
Good standing at current university
B or better grade, completed or in-progress, in the following courses:
English Language Proficiency Exam for international students and students whose English is not their first language. The examinations that meet this requirement include:

TOEFL iBT, minimum score of 100
IELTS, minimum score of 7.5
DuoLingo, minimum score of 120
iTEP, minimum score of 5.5
PTE Academic, minimum score of 70
C1 Advanced or C2 Proficiency, minimum score of 192
Successful completion of admission requirements is not a guarantee of admission. Please know that Dyson transfer admissions is highly selective.
Admission Recommendations
Your transfer application is strengthened if you have taken and earned a B or better in the following coursework in high school and/or college, particularly if you are a rising junior applicant:
Macroeconomics
One full year of introductory biology (labs not required)
One course in either chemistry or physics
Dyson Transfer Credit Policies
A maximum of 60 credits may be transferred from other accredited colleges or universities toward your Cornell degree. Decisions about transferability of credits will not be made prior to admission. Admitted transfer students will receive an official transfer credit evaluation two to four weeks after admission.
Internal Transfer Applicants
Questions and Contacts
Office of Undergraduate and Master's Programs Admissions
Cornell SC Johnson College of Business
289 Statler Hall
Phone: 607.254.4228
dyson_admissions@cornell.edu
Stephanie Kleiner '16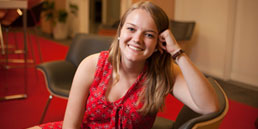 Concentrations
Food Industry Management Marketing
What Makes Dyson Special?
Dyson is special because it is a close-knit community within a much larger university. As an external transfer student I felt immediately accepted into the Dyson community. Dyson has provided so many opportunities for me to engage with my peers, professors, as well as industry professionals both in and out of the classroom. The 10 different concentrations really provide flexibility for each student to decide which areas of business are most important for them to explore. In turn, I feel more empowered because of the level and quality of education that I'm receiving from Dyson courses.