Applied Economics and Management Course Offerings
The Dyson School offers over 100 undergraduate courses in management and applied economics serving not only Dyson students but the Cornell community as well. To learn more about each course, click on its course number, which is linked to the description in Cornell's Courses of Study.
Kevin Hsu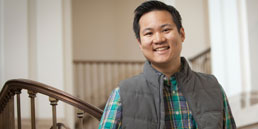 What Makes Dyson Special?
Dyson is special to me because of the love that the staff have for the students. The small class sizes help create opportunities for students to get to know professors on an individual, personal level. Even after classes end, I have found myself sitting in my professors' offices, talking about my future career plans and ways that I could be working toward them or shared interests in random activities. I have always felt that everyone in Dyson wants to see me not only succeed but also feel at home here, and I believe that this level of care for its students to be something that separates Dyson from everyone else.