Grants and Contracts
The Dyson School's faculty have a successful track record of receiving grants and contracts from a broad set of external funding agencies. These funds support the School's research programs and help to fund graduate assistantships and postdoctoral research associates.
The School is currently receiving $56 million in grants and contracts from 39 funding agencies. The listing below shows the titles of current grants and contracts and principal faculty investigator(s), listed alphabetically by funding agency.
Arizona State University
Charles University
ECOCEP: Economic Modeling for Climate-Energy Policy, de Gorter, Bento
CHS Foundation
General Capacity Building of the Cooperative Enterprise Program (CEP), Schmit
Cornell Agribusiness Fellows Program: Improving the Understanding of Agricultural Systems in a Global Marketplace, Schmit
Directorate for Computer and Information Science and Engineering NSF
SOCS: Collaborative Research: A Human Computational Approach for Improving Data Quality in Citizen Science Projects, Gomes
Directorate for Engineering NSF
WSC Category 3: Collaborative: Impacts of Climate Change on the Phenology of Linked Agriculture-Water Systems, Ortiz-Bobea
Farm Credit Banks/Springfield
Farm Profitability in Urban-Based Local Food Markets, Schmit
Federal Deposit Insurance Corporation (FDIC)
Global Banks and Risk Taking–IPA, Liu
FORS Marsh Group LLC
Experiments on Tax Evasion and Non-Payment, Schulze
Genesee Valley Regional Market
Accelerating Production of Organic Grains in Western New York, Gómez
International Food Policy Research Institute (IFPRI)
Impact Evaluation of National Rural Employment Guarantee Scheme in India, Chau
International Livestock Research Institute
Lawrence Berkeley National Laboratory
Development of Testing of New Tools, Zimmerman
Market Matters Inc.
Agricultural Input and Output Markets in East and Southern Africa, Christy
Meridian Institute
Agree–Soil Health, Conservation Practices, and Crop Insurance Ratings, Woodard
National Crop Insurance Services
Analyzing and Estimating Demand in the Federal Crop Insurance Program, Woodard
National Science Foundation
Collaborative Research: Computational Sustainability: Computational Methods for a Sustainable Environment, Economy and Society: Gomes, Conrad
Creativ: An Engineering and Economic Pathway to Ev-Based Transportation: Li
Inspire Track 1: Udiscoverit: Integration of Computational Reasoning, Learning, and Crowd-Sourcing for Accelerating Materials Discovery: Gomes
New York Farm Viability Institute
Building a Better Bottom Line for NYS Berry Growers, Rickard
Enhancing Economic Growth in Agriculture Via Business Planning and Analysis, Staehr
New York State Department of Agriculture and Markets
Farm Family Assistance, Staehr
Examining Current Labor Options and the Impact of Labor Policy Reform on Specialty Crop Markets in New York State, Rickard
Continuing Evaluation of Grape and Wine Production Practices in Support of the Emerging Cold-Hardy "Northern Grapes Industry in New York, Gómez
New York State Office of Mental Health
NY FarmNet–Mental Health Outreach, Staehr
Northeast Cooperative Council
Cooperative Extension Education and Outreach, Schmit
Pennsylvania State University
Enhancing Food Security of Underserved Populations in Northeast Through Sustainable Regional Food Systems, Gómez
U.S. Army Research Office
Crowd-Sourcing for Scientific Discovery, Gomes
United States Department of Agriculture (USDA)
An Examination of Competitive Behaviors in U.S. Farmer-First Handler Milk Sales Transactions, Schulze
USDA–Agricultural Marketing Service
Analysis of Alternative Forms of Price Regulation Among Buyers and Sellers of Farm Milk, Gómez
Cooperative Marketing Solutions to Meet Local Food Channel Demands, Schmit
USDA–Animal/Plant Health Inspection Service
Developing a Regional Eastern NCPN-Grape Center, Gómez
USDA–ARS Tree Fruit Research Laboratory
A Diagnostic Toolbox for Integrated Management of Apple Post-Harvest Necrotic Disorders, Rickard
USDA–Economic Research Service
Measuring Food Security: Alternative Approaches and New Frontiers, Barrett
Examining Barriers to U.S.-EU Trade and the Effects of the Transatlantic Trade and Investment Partnership on Selected Commodity Markets, Rickard
USDA–Forest Service
Integrating Ecological and Social Data to Optimize Economic Decisions on Wildlife Corridors, Gomes
USDA–National Institute of Food and Agriculture
University of California, Davis
Index-Based Livestock Insurance: Adaptation and Innovation in Ethiopia, Barrett
University of Delaware
Competitive Grant to Establish a USDA Center for Behavioral and Experimental Agri-Environmental Policy Research, Poe, Just
University of Illinois, Urbana-Champaign
Modernizing Extension and Advisory Services, Gómez
University of Missouri
Rural Entrepreneurship in the Wine Industry: Identifying Success Factors Among Start-Up-Wineries in Emerging Cool Climate Regions, Gómez
University of Sydney
Virginia Polytechnic Institute and State University
Improved Grape and Wine Quality in a Challenging Environment: An Eastern US Model for Sustainability and Economic Vitality, Rickard
Wal-Mart Foundation
Training Smallholder Apple Farmers in China for Sustainable Production and Domestic Market Access, Christy
World Vision Inc.
The Somalia Resilience Program: Technical Support For Resilience Measurement And Analysis, Constas
Loren Tauer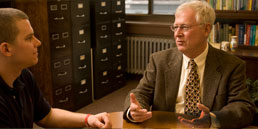 Professor of Production Economics and Finance
"The Dyson School's goal is to not only educate future leaders and scholars, but to help solve pressing world problems and communicate solutions to the public."