Dyson Leadership Fellows
Change yourself. Change the world.
The Dyson Leadership Fellows is a selective leadership development program for students in the leadership minor who are committed to leadership.  The Dyson Leadership Fellows program is designed for those students dedicated to continuing their leadership journey through participation in exclusive co-curricular opportunities.
Leadership Minors are eligible to apply to the Fellows program when they begin the first leadership elective in Tier III.
As a participant in Dyson Leadership Fellows, you will embark on a journey through knowing, doing, and being throughout your Cornell experience.
Learning and reflection: Attend workshops and classes that will build upon your personal leadership and awareness, including a senior year poster presentation
Co-curricular and service experiences: Participate in a variety of activities and service opportunities to apply knowledge hands-on
Workshops, speakers, and events: Take part in specialized programming like Leaders in Residence, Leadership Week, and Community Nights
Some of these components are required, while others are offered exclusively to Leadership Fellows as a program benefit.
Priority opportunities include:
Leader in Residence – exclusive meetings, meals, and activities
Inspiring Guest Speakers – priority guest list and small gatherings
Leadership Week – priority access to activities and volunteer Opportunities
Topics in Leadership (conversations & a meal) – exclusive to minors and fellows only
Case Competitions – Map the Challenge priority entry (space is limited)
Fellowship requirements:
Workshops (6 total) – Topics in Leadership, Leader in Residence workshops, and others in Dyson or across Cornell.
MAP the Challenge Case Competition (at least once)
Dean Speaker Series (attend at least 2)
Service (participate at least 2 times)
Become a Leadership Fellow Mentor! This is optional. Participation allows you to remain part of our leadership community by mentoring new minors and fellows through their journey.
"I really think that the Leadership Program was a very defining experience through my freshman year, and I'm very grateful to have been along for the ride."

Denise Castle '22, Dyson Leadership Fellow and Dean's Assistant
What will you gain as a Dyson Leadership Fellow?
You'll be equipped, inspired, and empowered to exemplify Our Business is a Better World.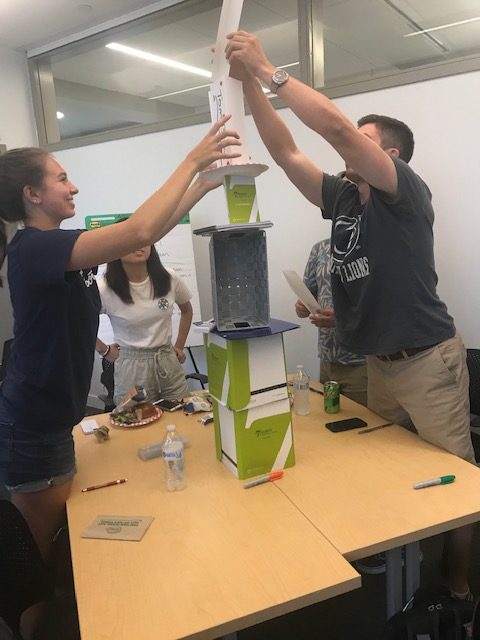 Co-created by students, faculty, and alumni to provide a comprehensive approach to leadership, Dyson Leadership Fellows is a multifaceted program that combines curricular, co-curricular, and experiential learning to build strong leadership skills. Upon completion of the program, you'll be recognized with a Dyson Leadership Fellows Certificate of Distinction that signifies the successful completion of the program's requirements.
Application, experience, and reflection.
We consider this program a leadership learning laboratory where you can learn, practice, reflect and hone your leadership skills, personal values, and business experience.
Apply to become a Dyson Leadership Fellow
To begin the Dyson Leadership Fellows application process, click on apply now, and submit the form to Donna Haeger. After your application is received, you will be contacted for an interview as the next step in the process.
Note that a Tier III status and a minimum GPA of 3.5 is required to apply for Fellowship status.
Applications are reviewed and accepted on a rolling basis.
Questions? Contact us:
Donna Haeger, PhD
Faculty Director of Leadership Development
Professor of Practice
340G Warren Hall
607.255.2736
dlh266@cornell.edu