Career Statistics
Class of 2018 Employment Statistics
The following post-graduate statistics are reported by students, and are in compliance with the National Undergraduate Business Symposium Standards.
Starting Salaries
Mean, base salary: $74,493
Post-graduation Plans
95% of students seeking a full-time job obtained one
Employed: 86%
Graduate/professional school/military: 9%
Accenture
Aksia
Akuna Capital
Aldi
AlphaSights
Amazon
Backend Benchmarking
Bank of America Merrill Lynch
Barclays
BlackRock
Bloomberg
BMO Capital Markets
Boston Consulting Group
Box
Canadian Imperial Bank of Commerce (CIBC)
Capgemini
Capital Group Companies
Citigroup
Clip
CNA
CNBC
Colgate-Palmolive
Compensation Advisory Partners
Cornell University
Corning Incorporated
Credit Suisse
Deloitte Consulting
Deutsche Bank
EJ Gallo Wines
Epic Systems
Evercore Partners
Eversound
EY (Ernst & Young)
Facebook
Fanatics, Inc.
Fenway Sports Management
Fitch Ratings
Gartner Inc.
General Electric (GE)
Global Atlantic Financial Group
Goldman Sachs
Gotham Consulting Partners
Grand Rapids Griffins
Guggenheim Partners
HSBC
Hudson's Bay Company
IBM
Note: Not all recent employers are listed.
Impendi Analytics
ING Financial Services LLC
International Finance Corporation
Intrepid Investment Bankers
J.P. Morgan Chase & Co.
JD Capital
Jefferies Financial Group
Jet.com
Knickerbocker Farms
KPMG
Kraft Heinz
L2
Lazard
Life Changing Labs
L'Oreal
Major League Baseball
MasterCard
McKinsey & Company
Microsoft
Moelis & Company
Morgan Stanley
MUFG
NERA Economic Consulting
Oliver Wyman
Oppenheimer & Co. Inc.
Optimity Advisors
P3 Group
Partners Group
Power in Communication
PricewaterhouseCoopers (PwC)
Puddle App
Roivant Sciences
SC Johnson
Starwood Capital Group
Sterling Organization
The Valparaiso Fruit and Beverage Company
The Walt Disney Company
Thomson Reuters
TIAA-CREF
UBS
United Advisors
Wells Fargo Securities
Westbrook Partners
Willis Towers Watson
Yelp
Yext
Gabriel Motola '15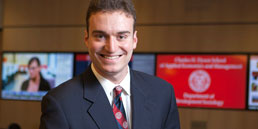 Hometown
Great Neck, New York
Concentrations
Finance Strategy
What Makes Dyson Special?
The Dyson School has provided me with multiple unique opportunities both inside and outside of the classroom. I'd say that the Dyson School's flexible requirements for undergraduates, as well as its diverse student body and multitude of opportunities applicable to so many different types of business careers are what allow it to so easily to apply Cornell's motto of "... any person, ... any study" to a business education. It truly is unique among top undergraduate business programs.