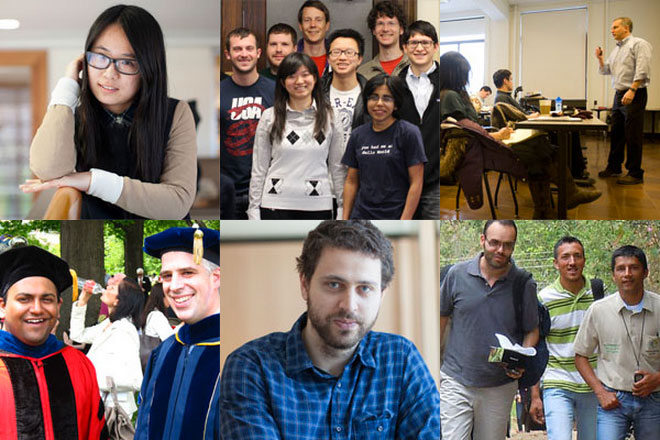 The Dyson Distinction
The graduate field of applied economics and management (AEM) at Cornell's top-ranked Dyson School of Applied Economics and Management has an over 100-year tradition of producing top graduates through its rigorous but flexible program led by the School's internationally known faculty.
As a Dyson graduate student, you will work closely with the School's faculty on applied research to achieve our mission to promote inclusive and sustainable prosperity, both locally and globally. Our business is a better world. Our emphasis is on impact through people and ideas.
Throughout your graduate studies, you will be encouraged to take courses offered not only by the Dyson School, but also throughout Cornell's world-class College of Agriculture and Life Sciences and the University's 13 other top-ranked colleges and schools. Because we value and strongly encourage interdisciplinary exploration, we welcome faculty from other graduate fields at Cornell to take an active role in your academic training and research.
The Dyson School's supportive and collegial environment within an Ivy League university has long opened doors to academic and career success. The high quality of our graduate program and high caliber of our students have been recognized by an unsurpassed string of M.S. thesis and Ph.D. dissertation awards. Over the past 10 years, the Dyson School's graduate students have won more Outstanding Master's Thesis and Ph.D. Dissertation Awards from the Agricultural and Applied Economics Association (AAEA) combined than students from any other university in the U.S.
With the solid academic training and research experience gained at the Dyson School, you will be in big demand. Our graduates obtain academic jobs in leading academic departments and public policy schools at top universities throughout the world, as well as positions in government, major development organizations, and businesses in the private and not-for-profit sectors.
We invite you to learn more about the graduate field of Applied Economics and Management at Cornell University.
Degrees We Offer
The graduate field of Applied Economics and Management (AEM) in the Charles H. Dyson School of Applied Economics and Management awards 3 degrees: the research-based doctor of philosophy (Ph.D.) and master of science (M.S.) degrees, as well as the master of professional studies (M.P.S.) degree, which emphasizes training through coursework and a problem-solving project.